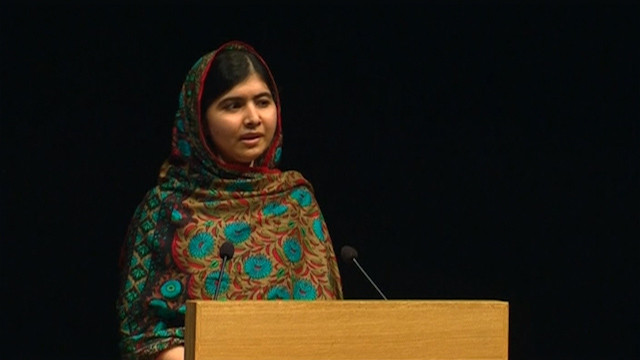 Nobel Peace Prize winner Malala Yousafzai has been given two 24-hour armed guards after a threat to her life. The 18-year-old has been identified by spy chiefs as a key target for terrorists. The teenager, who lives with her family in Birmingham, has as a result of the increased threat, been accorded security usually afforded to ministers and visiting political VIPs.
A source told the Sun: "Her life's been at risk since that failed murder attempt. But threats have grown significantly as her profile has become bigger. Being a Nobel winner and female education campaigner means she is seen as a global ambassador. Her elite police protection reflects this."
Scotland Yard said it would not comment on matters of security or close protection.
The reports come just four months after Pakistani officials confirmed in April that ten suspects who were all part of the Tehrik-i-Taliban Pakistan were found guilty of contributing to the 'planning and execution' of the assassination attempt against Malala. They received a minimum prison sentence of 25 years.
However, in June it emerged that only two of the suspects were actually convicted and jailed. The remaining men are believed to have fled to Afghanistan after the attack and evaded capture.
Yousafzai became an advocate for girls education after she was shot in the head by Taliban militants in 2012 in Pakistan when she was just 14-years-old. She was shot as she and her friends travelled to school on a bus her home town of Mingora. Malala suffered life-threatening injuries, but survived the ordeal after a bullet narrowly missed her brain.
She was flown to Queen Elizabeth Hospital in Birmingham, where she and her family are now settled. The teenager, who attends Edgbaston high school, was only last week celebrating her exam success, having scored a string of A*s and As in her GCSEs, including A*s in maths, biology, chemistry and physics, and As in history and geography.
Her proud father Ziauddin Yousafzai revealed his daughter's grades on Twitter writing: "My wife Toor Pekai and I are proud of Malala getting 6A*s and 4As. #education for every child."
Her impressive exam results are yet another achievement for the campaigner, who has had an asteroid named after her and who last year became the youngest person ever to win the Nobel Peace Prize. On her 18th birthday, she urged all world leaders to choose "books over bullets" by providing 12 years of free education to every girl.