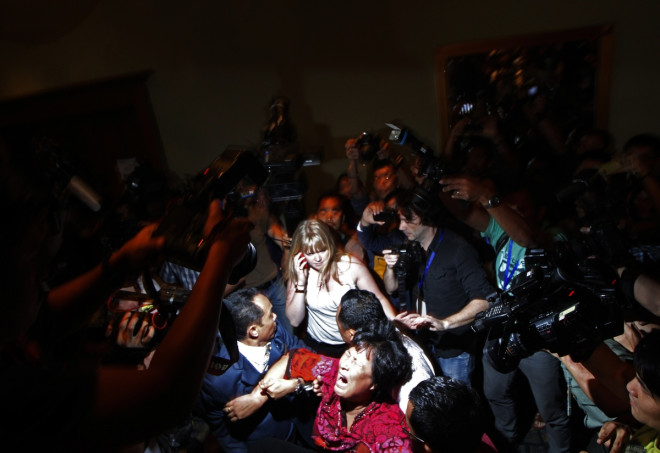 Chinese relatives of people missing on the Malaysia Airlines Flight MH370 have been manhandled and thrown out of the daily press conference in Kuala Lumpur.
A scuffle erupted as two relatives of passengers approached journalists to ask for information on the search and staged a protest against Malaysian authorities.
"We protest against Malaysia for hiding the truth," said a family member.
"We can't stand it anymore" one of the relatives shouted, according to Sky News.
Sky reported that the Chinese pair attempted to unfurl a banner and then were attacked by police.
They were knocked to the ground and forcibly removed from a hotel room where the press conference was due to take place.
The family members, visibly distressed, were then dragged away and locked inside a room. Police prevented media from speaking to them.
Frustration is growing among relatives of the 239 people on board the MH370 at the lack of progress in the search.
A total of 153 of the 239 people on board MH370 were Chinese. Families of the missing passengers on Malaysian flight MH370 have threatened to go on hunger strike to protest for more information from the Malaysian authorities.
"Now we have no news, and everyone is understandably worried," said Wen Wanchen, whose son is one of the people missing on board MH370.
"The relatives say they will go to the [Malaysian] embassy to find the ambassador. The Malaysian ambassador should be presenting himself here. But he's not. Relatives are very unsatisfied. So you hear them saying 'hunger strike'," he told AFP.