Malaysia Airlines MH17: Black Boxes to be Examined by British Air Experts in Farnborough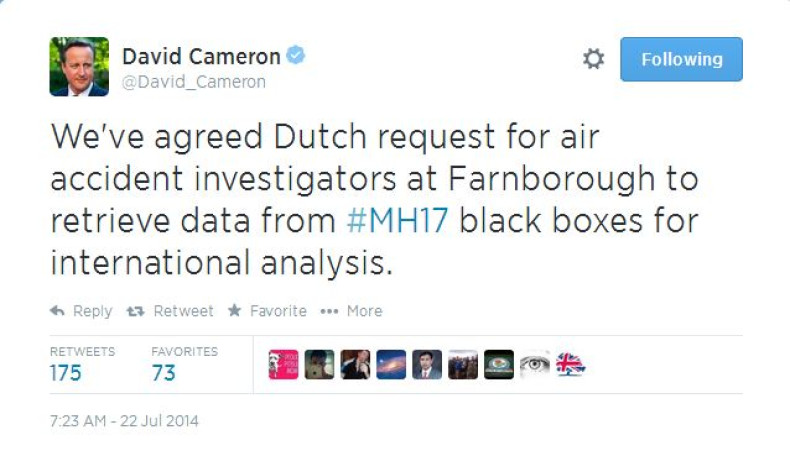 British air accident experts based in Farnborough, Hampshire will examine and retrieve data from the black boxes of the downed Malaysia Airlines flight MH17 at the request of the Dutch government, Prime Minister David Cameron has announced in a tweet.
Experts will go through the data from the flight recorders for "international analysis".
The Air Accidents Investigation Branch (AAIB) investigates air accidents in the UK or that involve British citizens or British-made engine parts.
The Malaysia Airlines Boeing 777, which was shot down over eastern Ukraine last week resulting in 298 deaths, used Rolls-Royce engines.
Investigators from the AAIB travelled to the crash site in Ukraine at the request of the Foreign Office and the Department for Transport over the weekend.
Original reports stated that that the six-strong team had been "stuck" in the capital city Kiev around 300 miles from the site at Grabovo due to political issues surrounding who can get access to the wreckage.
Netherlands Prime Minister Mark Rutte said that a train carrying the bodies of those killed had arrived in Kharkiv, which is controlled by the Ukrainian government, at 10.30am and the black boxes destined for the UK were on board. He said Dutch officials hoped that the first flight carrying the victims would leave for the Netherlands tomorrow.
He said: "As soon as the aircraft lands at Eindhoven Airport, the victims will be transported to the Korporaal van Oudheusden barracks in Hilversum, and once a positive identification has been made, the immediate next step will be to inform the next of kin ‒ no-one else.
"This may happen rapidly, but I have to caution you that it could also take weeks or even months."
He added that the Netherlands would lead the investigation into the shooting down of MH17 at the request of the Ukrainian government.
He added: "Our next priority is investigating the cause of the disaster. We will leave no stone unturned."