The flight engineer on board the missing Malaysian Airlines flight is being investigated by Malaysian police as crew and other passengers who have technical flying knowledge come under increased scrutiny.
Mohd Khairul Amri Selamat's aviation skills have put him at the forefront of investigations as police renewed speculation that the aircraft's disappearance could have been the result of a hijacking.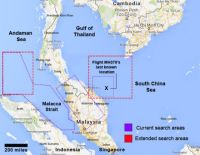 A senior police official said: "Yes, we are looking into Mohd Khairul as well as the other passengers and crew. The focus is on anyone else who might have had aviation skills on that plane."
Selamat, a 28-year-old father-of-one, had posted on Facebook that he had worked for private jet charter company, Execujet Aviation Group, as an employee in the Malaysian division.
A Malaysian airlines spokesman said: "We can't disclose anything. We want to protect the family's privacy."
The engineer's father, Selamat Omar, said his son had more than 10 years' experience as a flight engineer. He would not say whether he believed his son could have been involved in foul play.
Investigators have been examining the backgrounds of the pilots, crew and ground staff after further evidence revealed the Boeing 777 had been deliberately diverted off its course to Beijing.
British satellite company Inmarsat detected an automatic message from the aircraft , which calculated that it was flying in one of two air corridors, either towards Kazakhstan and central Asia or heading towards the southern Indian Ocean. This has prompted a mass search involving 26 countries.
Malaysia's prime minister Najib Razak said: "In view of this latest development, the Malaysian authorities have refocused their investigation into the crew and its passengers."
Co-pilot Fariq Abdul Hamid's final words of "alright, good night" to ground control, which were delivered after one of the key signalling systems was switched off, was another indicator that the plane was deliberately diverted, experts said.
The homes of Hamid, 27, and pilot Zaharie Ahmad Shah have been searched again.
The pilot was said to have built his own flight simulator as a hobby.
Hishammuddin Hussein, Malaysia's acting transport minister insisted that hope remained that the plane and the 239 on board could still be found.
Sarah Bajac, an American teacher, has set up a Facebook page to help track down her husband Philip Wood.
She wrote: "The glimmer of hope has become a definable ray. Hostages are far more valuable alive."
FLIGHT MH370 FACTBOX
Flight MH370 took off from Kuala Lumpur International Airport en route to Beijing at 00:41 on Saturday 8 March (16:41 GMT Friday).
About 50 minutes later, the aircraft lost contact with air traffic control.
No distress call was made.
On board, there were 12 Malaysian crew members and 227 passengers from 14 countries. That included 153 Chinese and 38 Malaysians.
Two Iranian male passengers, Pouria Nour Mohammad Mahread and Delavar Syed Mohammad Reza, were travelling on fake passports. Neither had any apparent links to terrorist groups.
No debris from the plane has been found in the international search.
Last confirmed communication with Indian Ocean satellite occurred at 08:11am, meaning plane continued to fly for seven hours after radar signal was lost.
At least 25 countries, including China, the US and Singapore, have now joined in the search for the missing plane.