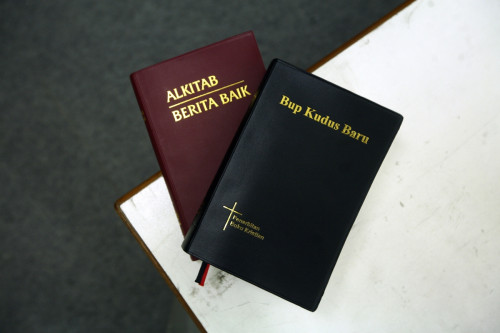 A Malaysian church has been attacked with petrol bombs in a row over the use of the word "Allah" for non-Muslims.
Police increased security after two men on a motorcycle threw Molotov cocktails into the compound of the Assumption Church.
Banners reading "Allah is great, Jesus is the son of Allah" were hung outside five Penang state churches. Church leaders denied putting the banners up and complained to police.
They said the banners were hung to create tension between Muslims and Christians in the majority-Muslim Southeast Asian country.
People of all faiths use Allah in Malay to refer to God. Christians argue that Bibles in the Malay language have used the word Allah to refer to the Christian God for decades, long before Malaysia became a federal state in 1963.
However, a court ruling in October said Allah had to be exclusive to Islam to avoid causing public disorder.
A Catholic newspaper, the Herald, had claimed that a government ban on the use of Allah in its edition was unconstitutional. A verdict in December 2009 lifted the ban, sparking a series of attacks in early 2010 on churches.
But the appeal court overturned the verdict, claiming there was "no infringement of any of the constitutional rights".
Earlier in January, Islamic authorities seized more than 300 Malay-language Bibles from the office of a Christian group because they contained the word "Allah".