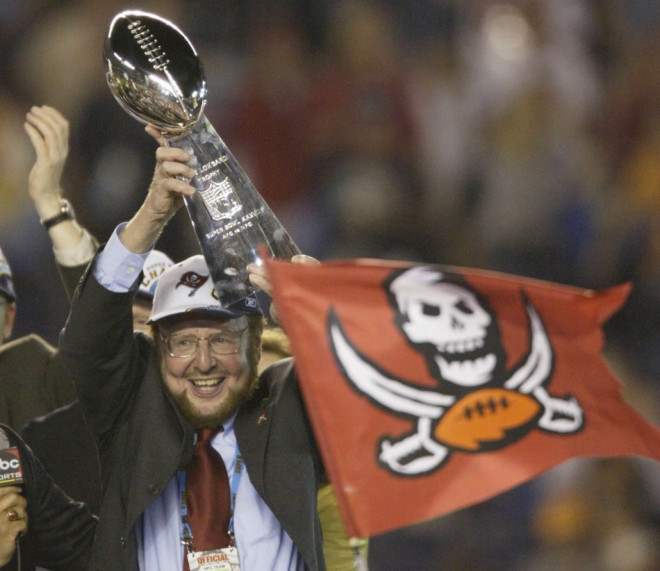 On the face of it, Malcolm Glazer was one of the most successful owners in British football history.
His period of ownership brought five Premier League titles, the Champions League and the World Club Championship, all delivered in thrilling style by Sir Alex Ferguson.
He sanctioned the signing of world-famous players such as Robin van Persie, Juan Mata and Dimitar Berbatov, and increased the capacity of Old Trafford, allowing millions more fans to see the team play in the flesh every season.
Glazer also oversaw a huge increase in commercial income, transforming United's marketing department into the most ruthlessly efficient in world football - and giving the club an advantage which may become crucial under the new Financial Fair Play rules.
Yet to the majority of United's supporters he was always a controversial figure, largely due to the circumstances of his buyout in 2005.
Glazer and his family took United private in a leveraged buyout which placed huge debt upon the club, and many fans felt that this indebtness undermined the club's competitiveness on the field of play.
They claimed that money which might otherwise have been channelled into superstar signings was instead drained by the debt, and United manager Sir Alex Ferguson was unable to build the kind of squad needed to dominate Europe.
United's spending under Glazer paled in comparison with Chelsea, Real Madrid and Manchester City, and some have suggested that the club's struggles last season were an inevitable consequence of years of under-investment in the playing staff.
Glazer's supporters will argue that this is nonsense, that United's on-field success continued unabated during his period of control, and that money was spent when necessary - last season, for example, United spent around £65 million on two players, Mata and Marouane Fellaini.
Ferguson regularly praised the Glazer family's stewardship, claiming they were brilliant to work for and gave him everything he wanted without causing the sort of stress or turbulence which frequently undermined other clubs, notably Chelsea.
Whatever the truth, Glazer - who never actually set foot in Old Trafford - will continue to spark debate among supporters long after his passing.
The family remains in control of United (in fact his sons Joel, Avi and Bryan have overseen the day-to-day affairs at Old Trafford since day one), and it appears little will change regarding the running of the club.
Yet no-one at United, from the boardroom to the burger vans outside the ground, will forget the little man from across the pond who bought their club in 2005.