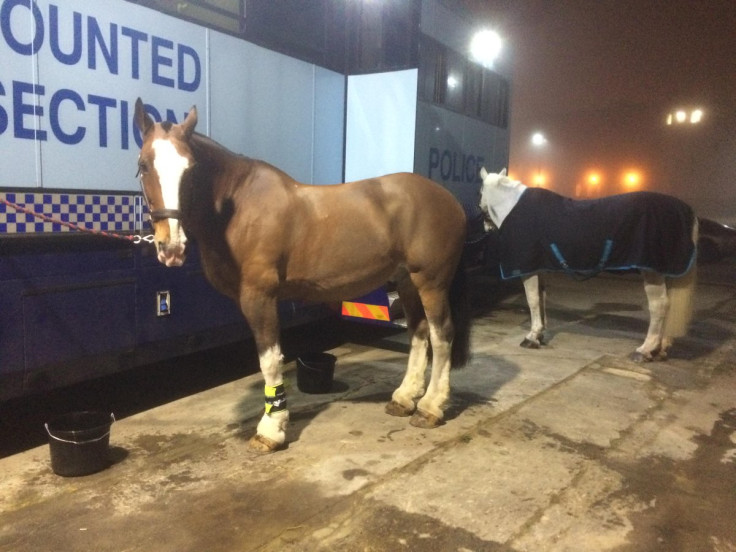 A man has been arrested after a police horse patrolling the Cheltenham Festival was attacked.
Samson was on loan from Avon and Somerset Police to help keep the four-day festival safe, when he was "slapped" by a man who was out in the town in the early hours of Friday (17 March).
The man was arrested and was detained overnight.
Through the mounted police Twitter account, a spokesman said: "One arrested and detained after slapping Samson. Thankfully Samson was perfectly ok afterwards.
"Offender currently in cells awaiting process."
A Gloucestershire police spokesman later told Gloucestershire Live: "This morning, a 38-year-old man from Somerset was arrested in Cheltenham Promenade on suspicion of being drunk and disorderly and slapping a police horse.
"He was given a penalty notice for disorder (PND)."
The incident came shortly before a truck driver was spotted urinating against his own front wheel in a bid to save time.
The incident was caught on camera through a glass wall in the ITV racing studio while a jockey was being interviewed by a pundit.
As the pair chat away, a green-fleeced man with his back to the camera can be seen standing by the front wheel of a lorry.
There has been a heavy police presence in the town and at the world-famous racecourse which has seen an estimated 250,000 attend the annual event.
The festival concluded on Friday afternoon, with Sizing John winning the Gold Cup.