Man cycling the 900-mile length of Britain using VR headset and exercise bike
Journey will be undertaken with Samsung Gear VR headset, Google Street View and lots of motion sickness.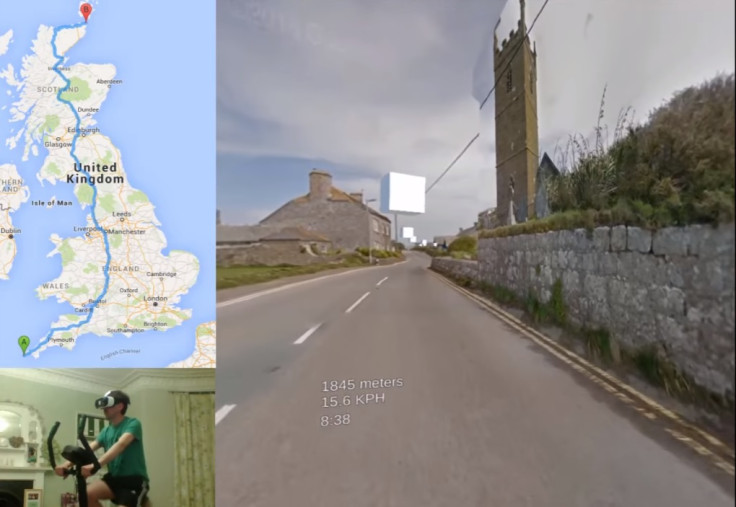 Aaron Puzey is attempting to cycle the length of Britain, from Land's End to John O'Groats, using a virtual reality headset and an exercise bike.
Having set the famous route on Google Maps with waypoints every few metres, Puzey is cycling along routes driven by Google's Street View cars. These images are then loaded into his VR headset and displayed in a way which makes the scenery look like it is passing by as he cycles.
Puzey set off on 15 May and by 8 August, his most recent post at the time of publication, had reached Manchester. He still has approximately 550 miles to go, which Google estimates will take another 49 hours of cycling to complete. Puzey is filming his entire trip, with edited highlights uploaded to YouTube tracking his progress. To keep his journey accurate, Puzey is avoiding motorways, where bicycles are forbidden, and sticking to country lanes.
A Samsung Gear VR is his headset of choice. Though not the highest-quality VR option on sale today, it is arguably the best compromise between cost and quality.
He is providing an amusing running commentary on the scenery as he cycles past. While the distant horizon "feels real", he says, close-up images of forests and woodland "just seem like big lumps". He also said going uphill feels more difficult and downhill easier, despite the resistance on his bike not changing.
"Holding the handlebars really helps for not feeling disorientated," he added. He said he experienced less motion sickness cycling in VR than when he was viewing Street View while sat on the sofa. A common issue, he said, was the lens of his Gear VR steaming up and sweat stinging his eyes.
"The single biggest problem with the Street View data is the high compression on the depth information." Puzey told The Verge. "Some things, like buildings, fit very well to this model and look quite solid, but things like trees and hedges and anything lumpy often just look a mess. I've also seen things like squashed bugs on the Google camera, bad colours in some scenes and strange black sinkholes. However, even with those problems it still feels like I'm there."
Puzey promises a future video will explain how viewers can try this challenge for themselves.
© Copyright IBTimes 2023. All rights reserved.