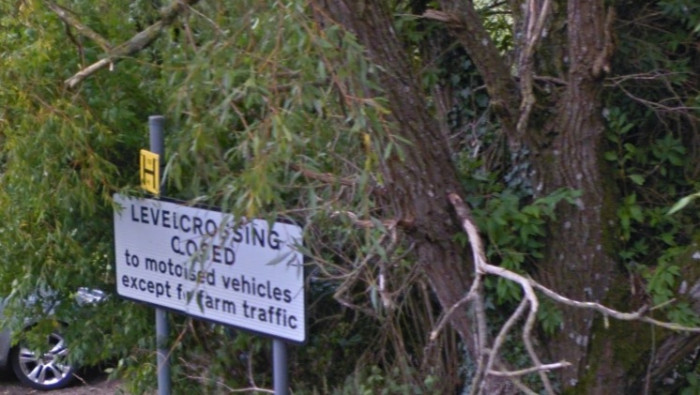 A man has died in Gloucestershire after his car was hit by a train on a level crossing. The victim is reported to have been in a Land Rover when it was hit by a Great Western Railways (GWR) train near Frampton Mansell.
The train was travelling between London Paddington and Cheltenham Spa. No passengers were reportedly hurt, but trains between Swindon and Gloucester were disrupted following the incident. The 60-year-old victim has not yet been identified. According to some local reports, a dog also died.
Gavin Garthwaite, who was was on the train, told Gloucestershire Live: "We felt a massive thud and we came to a sudden halt. The owner of the house parallel to where we are confirmed the car was dragged for 800m. The attendant asked over the Tannoy: 'Any train drivers and staff come forward.'"
Passengers are asked to check with National Rail Enquiries and Great Western Railways before travelling. In a statement, GWR said: "Due to a collision at a level crossing between Swindon and Gloucester all lines are blocked. Train services running through these stations may be cancelled, delayed or revised. Disruption is expected until the end of the day on 08/02/17."
The Rail Accident Investigation Branch have been notified about the incident at the level crossing, which according to local media reports can only be used by drivers who call a signaller to get permission. A recent safety assessment carried out by Network Rail noted potential risks at the crossing due to a high volume of use, potential misuse and a low sighting time.
In a statement, British Transport Police (BTP) said: "At 3.10pm today [7 February] we were called to a level crossing close to Frampton Mansell, Gloucestershire, following reports that a car had been struck by a train. Officers from BTP attended alongside paramedics from the South Western Ambulance Service. However a man, believed to be the driver of the car, was sadly pronounced dead at the scene. Officers are now working to identify the man and inform his family.
"The car was struck by the Great Western Railway's London Paddington to Cheltenham Spa service. There are no other reported injuries. At present, officers are currently examining the scene to establish the circumstances which led to the man's car being struck."
According to Rail Safety and Standards Board figures, excluding suicides and suspected suicides three people died at level crossings in Britain during 2015/16. All were pedestrians.
On 3 January a man died when his car was struck by a train on a level crossing in Bedfordshire.