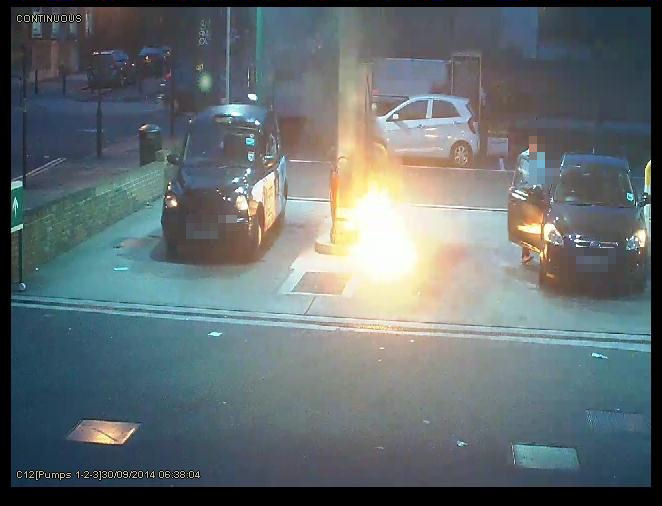 Police are seeking an arsonist who ignited an "incredibly dangerous" fire at a BP petrol station in south east London endangering nearby homes and motorists.
CCTV footage shows the man casually walking to one of the pumps at the BP petrol station in Trafalgar Road, Greenwich, before bunging it with what appears to be a piece of cloth.
He then pours fuel across the forecourt before crouching down and setting it on fire. The arsonist makes a quick dash away from the station as flames start rising perilously close to pumps.
The fire was tackled by a member of the public who acted quickly to put it out with a fire extinguisher.
Police believe the assailant bore the marks of his crime, which happened at 6.30am on 30 September, and had his eyebrows and hair singed during the incident.
Detective constable Karl Buckwell, from Greenwich CID, said: "This was an incredibly dangerous and reckless thing to do – there were cars and people filling up in the petrol station. The petrol station is surrounded by flats and is located on a very busy road.
"We believe that the person seen setting the fire in the footage would have been caught in it and may have burnt his eyebrows as well as his hair. Anyone who knows his identity should get in touch with police as soon as possible."
Anyone with information should call DC Buckwell at Greenwich CID on 020 8284 9416 or Crimestoppers anonymously on 0800 555 111.