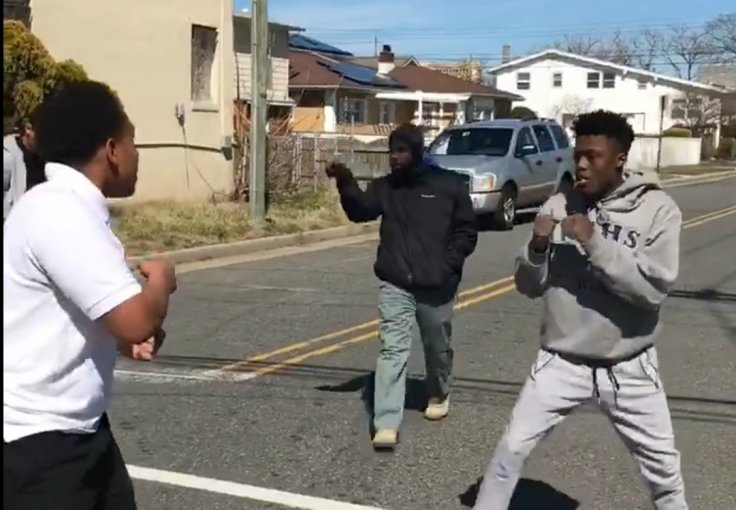 A man has received praise online after being filmed breaking up a fight between two teenagers. What starts off as just another fight is quickly interrupted when Mr Miller turns up on the scene.
Ibn Ali Miller of Atlantic City, New Jersey stepped in to stop the fight from going any further. He breaks up the street fight with a compassionate speech to the two boys involved and to the other kids who seemed to be provoking the brawl.
"Look, they laughing. Look," Ali says as he points to the crowd, "he's got a big smile on his face... he's supposed to be your man."
The boy who shared the video on Facebook, Marmar Duval, then admits to Ali that he was trying to defend himself and has no idea why the pair started fighting,
Ali turns to the other boy and asks, "Look around. Who ill-advised you? Who told you wrong?"
The fight intervention turns into a life lesson for not only the kids involved, but for the more than 15 million people online who watched the video in less than 24 hours.
"Y'all got parents, don't make your parents look like this," Ali says.
"I know where you're from. Humble beginnings. Your mum and dad worked hard to get where they're at."
After learning from the teen combatants that they had no idea why they started fighting, the man refused to leave until they both shook hands.
"It's a great thing to have the youth listen like that" Miller told the Press of Atlantic City. "That doesn't always happen. Those young men impressed me".
Miller said that he was running an errand for his mother while on a break from a class when he came across the fight.