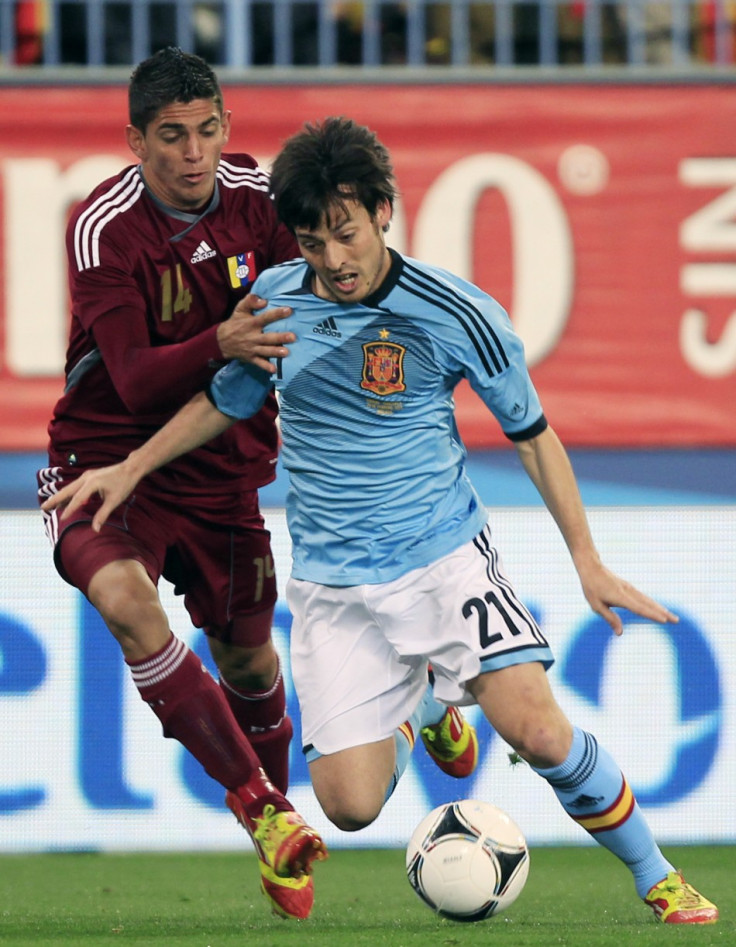 Manchester City boss Roberto Mancini has admitted his concerns at the sudden loss in form of his star Spanish midfielder, David Silva.
Silva, 26, transferred to City from La Liga club Valencia, for £24 million, in 2010. The transfer to England came after protracted speculation and rumours he may decide to stay in Spain and join one of his club's domestic rivals - Real Madrid or Barcelona.
However, move he did to England, rapidly establishing himself as one the league's best players. Despite concerns that being of a naturally slim physical frame he would take time to adjust to the Premier League's hurly-burly style, Silva recorded a stunning first season with the club, making 40 appearances in all competitions, with six goals and 13 assists.
He started the 2011/12 season in much the same fashion and was particularly irrepressible between September and November, scoring thrice but more importantly setting up almost a goal a game in that period. It was no coincidence that City lost just twice in 15 games during that period (a 0-2 reverse, away, to Bayern Munich in the Champions League and a 1-2 defeat to Napoli, also away and also in the Champions League). In that same period, City went on an eight-game winning run in all competitions.
Unfortunately, his recent poor performance against Sunderland on 31 March, in City's last league game, has drawn some criticism. Silva is in a rather dismal run of form - he has not scored or assisted since his goal against Porto, at home, in the Europa League and his assist for Nigel de Jong for the opening goal in the second leg of their Carling Cup game against Liverpool, in January. Coincidentally, his dip in form has seen his club's title winning hopes, both in Europe and domestically, take a hit.
"I don't know how many games David has played for us in the Premier League, Champions League, Europa League, Carling Cup, FA Cup plus internationals," said Mancini, in a Sky Sports report, "But it's normal that a player can arrive at a moment when he can't play 100 per cent."
"David always plays here [indicates high level with hand] and now maybe he is here [drops hand lower to chest]," he explained, adding, "This is normal, but I hope he can recover."
One possible reason for Silva's dip in form, a Mirror report speculates, is fatigue. The midfielder has already played over 40 games for his club alone this season. In fact, the report adds that so important was Silva to City's game plan that he played in the FA Cup defeat to Manchester United despite nursing an ankle injury. Moreover, it could even be the player is suffering from a bout of homesickness, having spent two years now in England.