Ferguson's 'Noisy Neighbours' Threaten to End Red Devils' Dominance
Manchester City winger David Silva speaks out in praise of manager Roberto Mancini.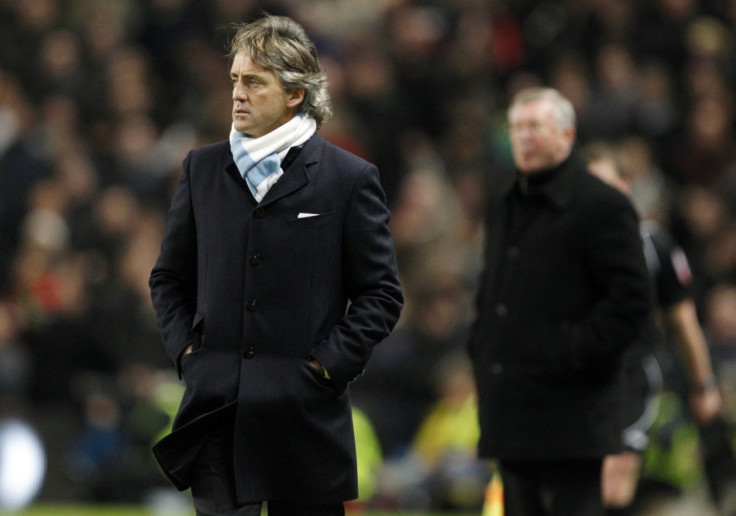 Manchester City's fleet-footed Spanish winger David Silva has come out in effusive praise of his manager, Roberto Mancini, according to reports in The Sun, both in the aftermath of City's historic 1-0 win over local and title rivals Manchester United and the Etihad club's incredible turnaround of fortunes over the last month or so.
At one point in the title race, in the first half of the season, to be precise, City were absolutely running away with the title. Mancini's men were scything through opposition like they were not there at all - a run of form and vein of confidence best exemplified by that now infamous 6-1 drubbing of United, at Old Trafford. At around that point, City were eight clear of the Red Devils and a first league title in more than four decades, it seemed, was a certainty.
Fast forward a few weeks though and a seemingly typical second-half-of-the-season assault on the summit by Sir Alex Ferguson, mind games included, led to a remarkable turnaround - from being eight behind City, United were suddenly eight ahead of their rivals, in what must surely rank as one of the exciting seasons in recent history.
However, Mancini, while he may not be the most tactically astute or most successful manager around, does have one very important quality - the ability to keep calm, at least outwardly. A report in the Daily Mail recalls a moment on 8 April, when, supposedly, Khaldoon Al Mubarak, the club's chairman, privately told Mancini his job was safe, regardless of the season's result. The result was City clawed back the eight point deficit and now lead the table, albeit only on goal difference, with just two games left.
"This is an important moment for us psychologically because we knew we had to win this game," Silva said, in the Daily Mail report, "Mentally we knew we had to win it. We did that and now we have to continue concentrating on the job. It does give us the confidence we need for the last two games. Perhaps Roberto has deflected pressure from us by saying the title is over. He has certainly taken the pressure off the players, which always helps because the pressure is always there between Manchester United and City. Yes, him taking the pressure off the players has really helped."
Silva also pointed out another fact, one that both Mansour and Al Mubarak indicated to too, although indirectly - that this was a long-term project that had gotten off to a good start and more than simply buying talent, Mancini's biggest challenge would be in creating a team of winners - a squad of seasoned, talented and professional footballers with an over-abundance of that drive to win coupled with the spirit to play as a team.
However, for that to really happen, City had to overcome one particular obstacle - they had to mentally strong enough to take on and beat Ferguson and United, not an easy task, as several teams have discovered. The man who, in the aftermath of that controversial 4-3 win for his side in 2009 (when Michael Owen scored the injury time winner), dismissed City in a BBC report as "noisy neighbours".
They seem to have turned that corner now.
"We are ready to win the title. We don't concentrate on United. We concentrate on ourselves. We beat them there, we beat them here. Don't get me wrong, United are a great team, a fantastic team. They've been winning titles for a long time but, as I say, we beat them there, we beat them here," Silva continued.
Meanwhile, Belgian international and club captain Vincent Kompany, whose header won City the game against United on Monday night, had much the same opinion.
"I am buzzing. We have been waiting for this moment. We know it's far from over but we've given our fans two wins over United. We have to finish it off. I hope we can do it in the two games we have left. Everybody wants it so bad," the captain emphasised, in another report by The Sun.
The impact of Monday night's win was felt in the Red half of Manchester too. For one thing it brought a fresh vigour to United captain Patrice Evra's warning.
"Beware. If City start winning it will be hard to stop them," the left-back was quoted as saying in a third report by The Sun, "We have to stop them before they start, because they can go far. That's how a big team starts, the first trophy they win. They won the FA Cup last year and if they win the league they'll get too much confidence. If they win the Premier League, a page is turned and it's a revolution, and revolutions have always been about Manchester United."
© Copyright IBTimes 2023. All rights reserved.