Former Manchester United and Real Madrid striker Ruud van Nistelrooy believes the Champions League trophy means more to the Spanish champions than the Premier League leaders.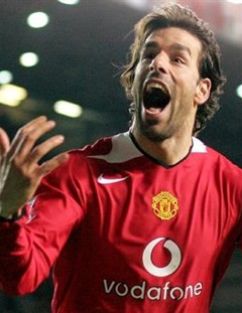 The Dutchman's loyalties are divided, given he starred for both clubs, making it impossible for him to choose a favourite.
"The Champions League is more of an obsession for Real Madrid than Manchester United," van Nistelrooy told Spanish newspaper Marca.
"Who am I going to support? It's an impossible choice. It would be like trying to choose between one of my two kids and I can't. I love both teams."
With Madrid's chances of winning successive La Liga titles looking increasingly doubtful, the Champions League has assumed even greater importance for the Spanish club. However the draw has not been kind to Madrid as United are in excellent form, opening up a nine-point gap in the Premier League to their nearest rivals Manchester City.
van Nistelrooy is relishing the tie, believing it to have the makings of a classic.
"I'm sure I'll go to the Bernabéu. I've already planned the trip and we're going to see a huge match. The Bernabéu in the Champions League is incredible," Van Nistelrooy explained.
"A lot of fans will come from Manchester and support them like crazy. There will be two great teams out on the pitch. I'm going to Madrid simply to enjoy the game."
Van Nistelrooy scored 150 goals in 219 appearances for Manchester United, winning the Premier League's Golden Boot award in the 2002/03 season. His record for Madrid is equally stellar, with 64 goals in 96 appearances for LosBlancos. The striker predicts a close but exciting tie.
"Both teams are strong in attack," he explained, "Real Madrid has improved a lot in the last few weeks. I think the tie will be decided by minor details. There is no favourite."
Regardless of the outcome, the tie will showcase some of the best attacking talent in Europe, with both teams well stocked in that category. van Nistelrooy however, identifies two players who could seal the fixture for their teams.
"For me the key will be the form of Cristiano [Ronaldo] and Van Persie. One of them will make the difference," he concluded.