Gary Neville believes that should Manchester United lose the title, the side will come out better as a result, with Sir Alex Ferguson's youngsters learning from the defeat at the hands of Manchester City.
Now a Sky Sports pundit, Neville was a one-club man with the Red Devils, starring for the side throughout the 1990s and 2000s as they won multiple titles and Champions League trophies.
And the former defender knows first hand what it's like to be a part of a losing United squad as well as a winning one, and believes that this made him a much better player in the face of adversity.
"If we were to lose the league, well, we've had this type of season before," he said, as reported by the Daily Mirror.
"I've been part of teams who've found it difficult to get over the line. I think of Arsenal chasing us down in 1998, drawing at West Ham in 1995 or other seasons when it's fallen away.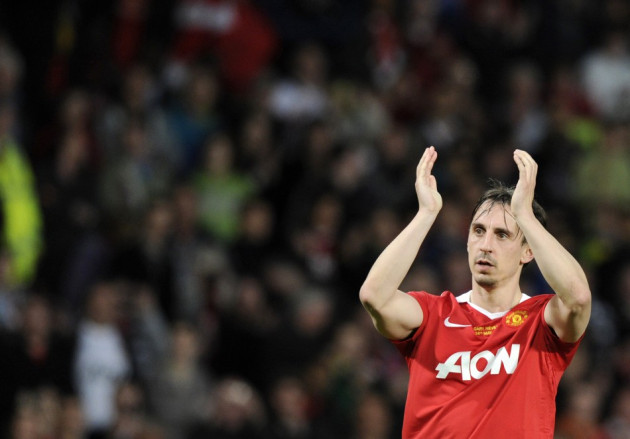 "It does happen and it's not the end of the world, even though it's a particularly bitter pill to swallow - especially with it being to our local rivals. You just have to get on with it, recover and regroup, learn from it, come back next season and fight like never before."
Most recently, Chelsea challenged United in the title chase, and now the big spenders are currently in sixth place in the league, showing that the Red Devils have had a fighting spirit that no team has been able to match for such a long period of time so far.
And Neville believes that United will respond well to the struggles that they're currently facing both in England and abroad, with the youngsters in the squad ready to step up and show they can be in the front line for the long term.
"More often than not, United respond well to losing the league, especially under Sir Alex," he explained. "He's got players like Hernandez, Danny Welbeck, Chris Smalling, Jonny Evans, Rafael, David De Gea, Tom Cleverley and Phil Jones, who are only going to get better.
"All of those players will take good and bad from this season and they'll be better as people, better as champions.
"The pain of losing championships never leaves you. From eight points clear, to now trail City on goal difference, is baffling. You can't get your head round it and I know the players will be hurting too."
United face Sunderland at the Stadium of Light this Sunday, and could find an unlikely hero in former Red Devil QPR manager Mark Hughes, if his side are able to hold Manchester City to at least a draw on the final day of the season.