Javier Hernandez insists that he is ready for the increased competition that will come with being a striker for Manchester United next season, as speculation continues to surround a deal for prolific goal scorer Robin van Persie.
Hernandez got off to a flying start in his first season with the Red Devils, garnering comparisons to the likes of Ruud van Nistelrooy and Ole Gunnar Solskjaer.
While injuries stopped him from being able to repeat his successful first campaign, the Mexico international believes that the competition involved in playing for one of Europe's biggest clubs will give him the motivation to show how good he can be this time around.
"Like I always say, there are parts of your life when you're going to have competition," he told the United website.
"Even if you're in the youth team you will have competition in your position, that's normal.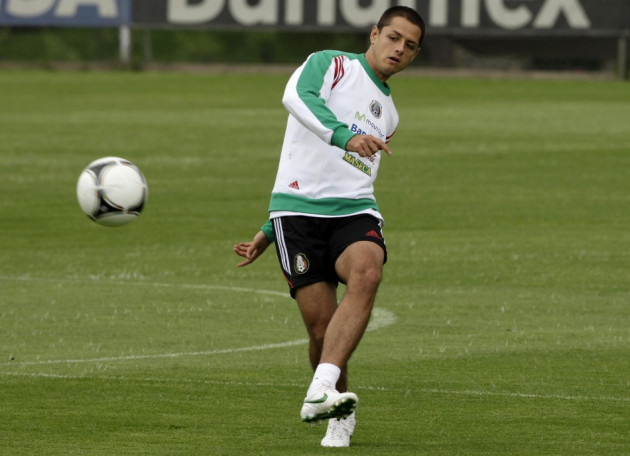 "I think having that competition in the team can be good, to keep fighting for that place will make you and the other players play at their best because everyone - the strikers, the midfielders, the defenders, the goalkeepers - all want to be in the XI so they need to keep improving and work hard.
"It's normal for a footballer, so I'm going to be ready whenever the gaffer wants me to play. If it's one minute or 90 minutes, I want to do my best to help the team win titles."
Hernandez has already won a title with United, in a season where the side came painstakingly close to taking a Champions League trophy as well.
And the 24 year old says it's his dream to repeat the achievements of 1999 with United in his career, by achieving the treble at the very least.
He explained: "My real dream - and I swear it is not about scoring the biggest goal - is to win the Treble.
"One year at least, I want to win the league, I want to win the Champions League - we were so close in my first year - and I want to win the FA Cup and the League Cup.
"I think the Treble is the most complicated thing in the world for any club to win. So that is my dream, to lift all those trophies in one season."
Should United purchase van Persie, with the club currently negotiating with Arsenal over a fee, Hernandez will be playing alongside two of the Premier League's best strikers, and getting game time will be all the more tough, especially with Danny Welbeck to contend with as well.