Sir Alex Ferguson hopes to reintroduce Paul Scholes to his starting XI before the end of the season, suggesting the 38-year-old may feature on the bench in Sunday's clash with Chelsea.
The United legend has been side lined with a troublesome knee injury since late January, but the Manchester United boss is hoping to get the midfielder match time against Rafa Benitez's side for what could be his last few games as a United player.
"Scholes and Vidic are training and I'll probably put Scholes on the bench on Sunday to get him back into the fray," Ferguson told a press conference on Friday morning, the club's website reports. "I'd love for him to play in the Swansea game."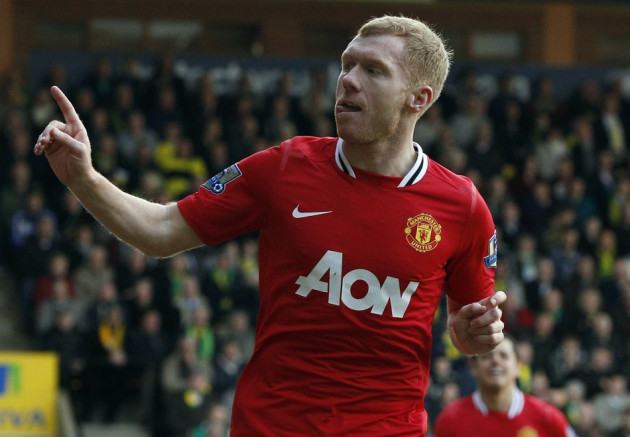 Scholes, who returned from retirement in January of last year, hasn't played since United's 4-1 victory over Fulham in an FA Cup fourth round tie at the start of the year.
Although unsure as to whether he will have Scholes in his squad next season, Ferguson confirmed earlier in the week that the midfielder will definitely be involved with the club, be it as a player or a member of the coaching staff.
The United manager also expanded on comments made earlier in the week regarding the club's transfer plans this summer.
Having already secured a deal for Crystal Palace starlet Wilfried Zaha, Ferguson explained that the club are confident of "one or two" additions in the coming months, suggesting they have already established who they want to bring to Old Trafford.
"We've been doing [planning for next season] for a while," Ferguson continued. "Your scouting goes on for the full season, actually sometimes two seasons when you maybe monitor a young player.
"You want to see how he does the next season. That is the process we go through. We've got some ideas where we're going and hopefully we can conclude them.
"We'll look at one or two bodies to come in. You've got to remember there are a lot of young players we expect to improve and take that into consideration. And you have to consider the ages of players and protect that part. In the main, we know where we are. We're comfortable."
The United manager also made it clear that he had every intention of fielding his strongest possible XI against his old adversary Benitez on Sunday afternoon. Chelsea are still deep in the midst of a battle for a Champions League spot with Arsenal and Tottenham Hotspur, and as he did with Arsenal, the Scot plans to do all he can to maintain a level playing field.
"We did pretty well at Arsenal last weekend and should have won it with the chances we had," he added. "Chelsea are chasing a Champions League place as well and we'll be playing the strongest team we can."