Any England Manager Would Want Manchester United Saviour
Manchester United starlets Phil Jones and Chris Smalling both believe Paul Scholes could play for England
Phil Jones and Chris Smalling both believe that Paul Scholes could make the England team, with the Manchester United midfielder starring for the side as they push hard for the title.
Scholes' return at the start of the year was the beginning of the Red Devils' slow but sure takeover of top spot in the Premier League table, and despite being 37 years old, he is quicker than many players half his age on the field, and has had a big hand in the club's success.
And Jones and Smalling, who have both also found their feet for United this season, believe that he could well be the saviour for England just like he has been at Old Trafford.
"I don't see why [age would be a problem considering Scholes' ability]," Jones told the Telegraph.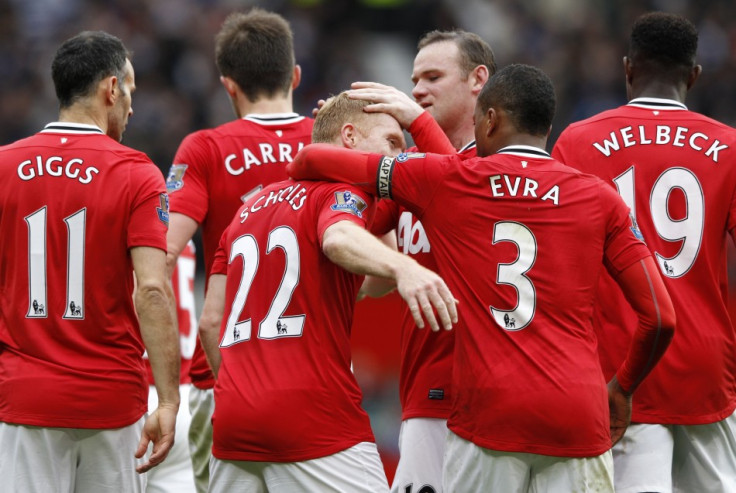 "I think as long as you are [mentally] one or two steps ahead of people on the field, although they do say these days you have to have a lot of pace. But I think if you're clever enough and you read the game well enough, I don't think age will be a problem.
"He's a terrific player. I remember playing in his testimonial at the start of the season. It was the first time I had played with him and I thought he was just unbelievable.
"When you see him in training and the things he does it's just a joke."
Smalling added: "He is unique.
"You can see when there are moments in the game when it is all rushed and he settles it down when he gets the ball.
"He has the ability to dictate. Come the summer there may well be calls for him to be included in the squad and it will be because he is a player in great form and I'm sure any England manager would want."
Manchester City executive Patrick Vieira accused Ferguson of showing desperation in bringing Scholes back into the fold at United. But the former Arsenal star was proven very wrong when he scored in the club's 2-0 defeat over QPR last Sunday, and City faltered at the Emirates to fall eight points behind their rivals.
United suffered during the week at the hands of Wigan, and while Roberto Mancini still believes that the title race is over, Ferguson insisted that United will still fight hard until they lift the trophy.
"I think he picked the wrong time to say that [the race is over]," he told the BBC.
"There are five games still to go. The twists and turns of the Premier League, it's fascinating."
© Copyright IBTimes 2023. All rights reserved.