Patrice Evra believes Cristiano Ronaldo's 'love' for Manchester United may hinder his performance when Real Madrid travel to Old Trafford on Tuesday for the crunch Champions League tie.
The two players became good friends during their time at Manchester United and Evra feels as though the Portuguese striker still has a soft spot for the club that helped him become one of the world's best players.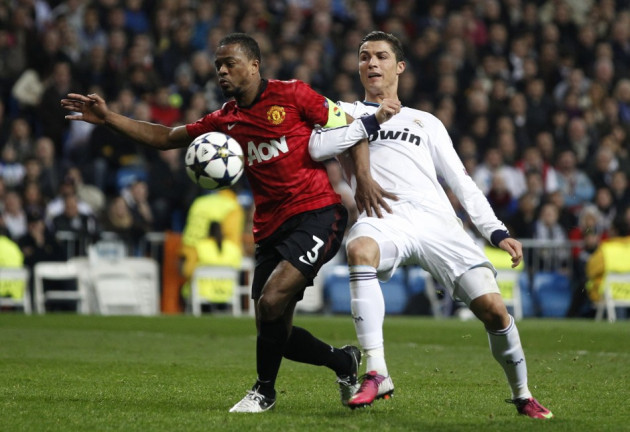 It will be the first time that Ronaldo has played at Old Trafford since his £80million move and he is bound to get a warm greeting from the supporters who still chant his name on the terraces.
However, after speaking to Ronaldo after the 1-1 draw in Madrid, Evra feels as though his emotions may get the better of him and it could affect his performance.
"Cristiano will get a great reception because of what he achieved for Manchester United. The fans will never forget what he did," Evra told the Manchester Evening News.
"Also, he still loves the club. I remember after the game in Madrid we had a chat. He said it was going to be more difficult to come here.
"It is difficult when you play with love. This is his house, so there will be a lot of emotion. I hope he doesn't play well because of that.
"But Ronaldo is a winner. He is a big competitor. If he can win against Manchester United he will do it."
Ronaldo was identified as one of the chief threats when United travelled to Spain and it proved to the case as it was the forward who cancelled out Danny Welbeck's opener to level the tie.
While Real Madrid will be confident of causing an upset in Manchester, Sir Alex Ferguson believes his side showed enough in the first leg to prove that they can reach the quarter-finals of the competition at the Spanish side's expense.
"I felt we looked very comfortable (in the first leg) and gave a good account of ourselves," said Ferguson. "We could have scored five or six goals. Robin van Persie missed two great opportunities and their goalkeeper made a couple of good saves.
"And although we expected Madrid to have a lot of possession there was nothing that worried me unduly, so perhaps we should have won the game."