As the champagne corks popped from their bottles, and Manchester United players celebrated winning another league title after their 3-0 victory over Aston Villa, Sir Alex Ferguson made a bee-line for the man he credited with being the difference in the championship race.
Hugging Robin van Persie for the second time in 10 days - the first being when the striker broke his goal drought against Stoke and ran directly to his manager to celebrate - Ferguson made it clear who he felt was the spark that took his side from coming second to Manchester City in the dying minutes of last season, to wrapping up the title with four games to spare this time.
But take a closer look at United's performances and set aside the brilliance of van Persie - the Dutchman is on track to win the golden boot with 28 goals - and it seems there are a number of different reasons why the club now hold a record 20 domestic titles in their trophy cabinet.
In fact, their sudden dominance in the league - going from runners-up to champions with time to spare - is more because of the failings of City than their own improvements.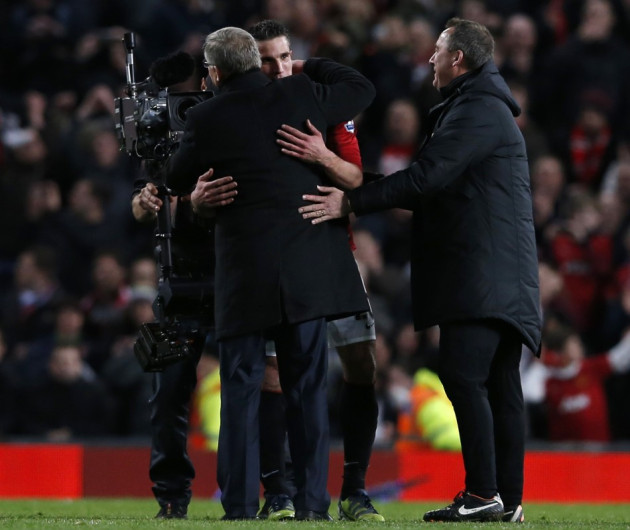 van Persie's goal scoring record for United certainly can't be argued with. In particular, his ability to score the winner early on in the season to complete comebacks against Southampton, Liverpool and Reading earned him an instant heroic status with the club's fans - a status sealed by his last-minute goal at Eastlands in December.
His presence in the matches where United were desperately looking for a goal, in the league at least, can't be over-stated, though often before his arrival at Old Trafford, Wayne Rooney served this role equally well.
A comparison of life at United before van Perise arrived, compared with their performances after he came into the fray, paint a very similar picture.
The 2011-12 season was a disappointing one for the club, who missed out on any trophies as a result of a painful exit in the Champions League group stages, a Carling Cup loss to Crystal Palace and an FA Cup exit at the hands of bitter rivals Liverpool. As for the title, it's well documented that Aguero ruined Ferguson's chances to celebrate a 13th English Premier League trophy..
This season, the only difference in achievements is that United have a title to boast. FA Cup-wise they fell to Chelsea in the quarter final replay; in the Carling Cup, another defeat to the Blues in a 5-4 thriller; and in the Champions League, United went a one round better to reach the last 16 before they were ousted by Real Madrid, albeit under controversial circumstances.
This time last year, United had almost exactly the same amount of points, with 83 on the board compared to 84 now, and held top spot over their cross-town rivals.
In comparison, City have a very different position this season to last, with the 80 points on April 24th 2012, compared with 68 points presently. Such a gap is certainly the real difference between first and second place.
Their goal difference also cuts a picture of a downhill spiral over the last 12 months; 60 compared to 29 is rather depressing for the strikers under Roberto Mancini's instruction, which would at least partly explain their failure to take maximum points from several games.
On the other side of the coin, for all Arsenal fans claim van Persie's departure has turned the club from title contenders into top four scrapers, the Gunners are in exactly the same position as last season, though they had three more points when their prolific striker was at the Emirates.
While van Persie might not have been the difference for United, he could still prove the difference in the title decider in other ways. Had the striker gone to City, he may have provided the goals that the club seem to have lost this season, and made up for the margin that some of the club's top strikers have created between two campaigns.
The season isn't over yet, but the discrepancy in goals from Sergio Aguero is glaring - the Argentine scored 30 goals in the 2011-12 season, and has so far backed that up with 15 in his second campaign in England.
Mario Balotelli had just three goals to his name when he made the move to AC Milan in January. At the same point the season before, he had 13.
Edin Dzeko has been somewhat more consistent with 13 goals, although he still has some catching up to his 19 goal tally last season. Carlos Tevez is the obvious exception. Having spent the majority of last season overseas, he's picked up some of the slack for his teammates with 13 more goals so far this season than last.
Would van Persie have made a difference to this decline in goals from the City camp? It's impossible to know. One point to note is that while Ferguson has toyed with moving Rooney to more of a midfield position, he might not have been afforded such luxury had van Persie opted for life on the other side of Manchester.
Had Mancini landed another striker last summer who could make up for the lack of goals that Aguero, Balotelli and possibly Dzeko have scored, right now the Premier League table could be a very different one, even with van Persie at United.
But one thing that is clear from the comparisons between the seasons of 2011-12 and 2012-13 is that van Persie didn't make United better; instead, City merely faltered enough to gift their rivals the title so early in the season.