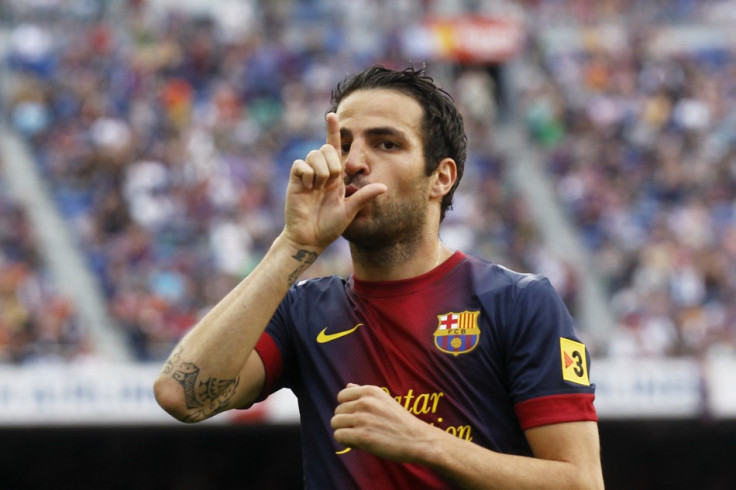 Aaron Ramsey has hinted that he thinks Cesc Fabregas will stay at Barcelona next season, despite reports claiming the midfielder is considering agreeing a deal with Manchester United.
Arsenal are believed to have a clause in place that allows them to negotiate with the midfielder if he wants to leave Barcelona but Arsene Wenger has said he believes that Fabregas will stay in his native city for the next season at least.
But that hasn't stopped United pulling out all the stops to change his mind, with the club confirming that two official bids have been submitted in the hopes of convincing Fabregas that he will get more attention and game time at Old Trafford next season.
But Ramsey believes that the title winners' efforts to sign the Spain international will prove fruitless, particularly after Fabregas's comments during the season, insisting he would stay with the Catalan giants.
"I've seen the stories but I don't know what's going on there," Ramsey told the Daily Mail. "He's a quality player and he will be linked to a few different clubs.
"I don't know exactly what will happen but he's a great player and he's still at Barcelona and he said earlier in the year that he wants to stay, fight for his place and become a regular there."
With Barcelona having already allowed Thiago Alcantara to leave for Bayern Munich it is generally believed that they would not want to allow Fabregas to move thsi season.
But with David Moyes yet to make any signings since taking over the post on July 1st and United may hope that they can persuade Fabregas to force through a move.
The club have taken a huge risk in making their pursuit of Fabregas so public and most recently publications have claimed that the 26 year old is reconsidering his future after Barcelona failed to reassure him over game time next season.