Spain manager Vincent Del Bosque has urged Barcelona midfielder Thiago Alcantara to reconsider his decision to move to Manchester United and stay at the club. The 62-year-old believes that he is highly rated in Spain and given his talent will definitely get more games that he currently is.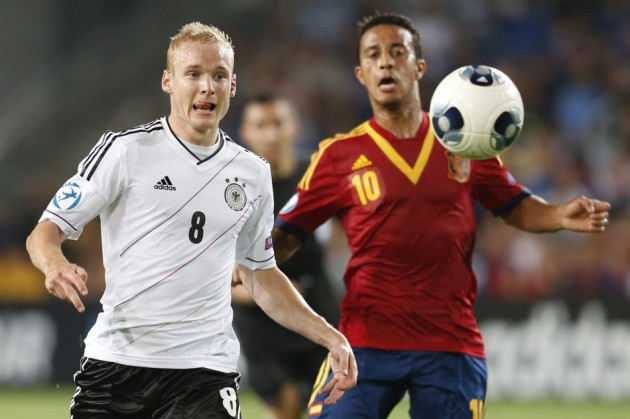 The 22-year-old caught the eye of many clubs following his performance in the U21 European Championships where the midfielder scored a hattrick in the finals against Italy to lift the trophy. The Spaniard has been linked with a move to United, having managed only 15 starts in the league with Barcelona and is looking for more game time in order to improve his chances to travel with the squad for the 2014 FIFA World Cup in Brazil.
"The most important thing for Thiago is that he keeps getting games. There are other options, but I think he will get them at Barcelona, he is held in a very high regard at the club," said Del Bosque.
Alcantara has currently resumed pre-season training with the Catalans with no updates on his future currently available. David Moyes is planning a £17m bid for the player but are yet to make an official contact with Barcelona regarding the same.
We have the players we have and Thiago is one of them. Pre-season with us begins as scheduled," Barcelona spokesman Toni Freixa told Spanish radio station Radio Catalunya.
Meanwhile, Shinji Kagawa has revealed that he had a partially satisfactory year with the Red Devils, following his transfer from Borussia Dortmund last season.
"It was great to win the title with United. But I feel I still have work to do. I would say I am half satisfied, half unsatisfied. You have to believe in yourself. If you don't, things can go wrong both on and off the pitch. Being positive and believing in yourself is important, not only in football but also in improving as a person," Kagawa told Inside United.
"It is inspiring and exciting to play alongside such world class players. Wayne can do everything to the highest standard. He has everything a football player would need: team spirit, hard work, switching between attack and defence," he added.