Robin van Persie clinched the title for Manchester United with a stunning hat-trick and immediately declared that he was hungry for more success.
The 29-year-old won the Premier League for the first time in his career after helping United secure a 3-0 win over Aston Villa on Monday night and it was immediately clear how much this meant to the prolific striker.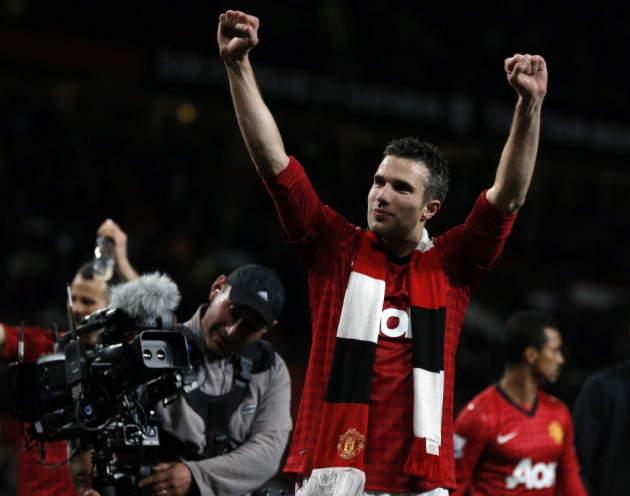 "It's a great feeling," the striker told manutd.com "I had to wait a long time and I've been thinking and speaking about it with Rio, for example, in the car and he's been telling me: 'Listen, whatever happens, that's the standard.'
"He's right. From now on, our new standard is we want to be champions every year and we want to win more. So we are even more hungry than than we were last season because you could just tell, from day one, everyone wanted this and we did well."
Van Persie has been playing in England since joining Arsenal in 2004 and despite being part of a squad that won the FA Cup in 2005, he has had very little to celebrate during his time on the Premier League.
However, after claiming his first league winners medal, he is now determined to deliver even more success to United as he looks to win every major club competition.
"I want to win it again. I want to win more stuff. I want to win the FA Cup, the Champions League, the Capital One Cup. I want to win it all," added Van Persie.
"This is a trophy for all of us - the management, staff, all the players and the fans have been brilliant too. They've been absolutely amazing, cheering us on every single game, home and away, so credit to them as well."
The Holland international has been instrumental in helping United wrestle the title back from Manchester City and after his hat-trick against Villa, he boasts an incredible record of 24 league goals in his first season at the club.
With some four games still remaining, the former Arsenal striker needs just two more to get 30 goals in all competitions, and you certainly wouldn't bet against him reaching that target with games to spare.