Manhunt in Cleveland after suspected Easter Sunday murder broadcast on Facebook Live
Authorities identified the homicide victim as 74-year-old Robert Godwin.
Cleveland Police have launched a manhunt for a man they believe killed someone and broadcast the act on Facebook Live. The suspect, identified as Steve Stephens, allegedly claimed to have committed many more homicides.
Stephens is considered armed and dangerous, police said on Sunday (16 April) after the alleged murder in northeast Cleveland near the Lake Erie shore.
Authorities said Stephens "broadcast the killing on Facebook Live and has claimed to have committed multiple other homicides which are yet to be verified".
According to NBC News, he allegedly made a series of posts on his Facebook page on Sunday complaining that he had "lost everything" to gambling.
The posts then named specific individuals he wanted to speak to.
Later, he wrote: "I killed 12 people today" and said he would not stop until he could speak to his mother and a second woman.
The user then posted: "I killed 15 today because of [the second woman]." The suspect referred to his "Easter day slaughter".
In the video of the killing, the suspect is seen pulling up to an elderly man who is walking on the street. The suspect orders the man to say a woman's name and pulls out his gun, CBS News reported. The elderly victim repeatedly says he does not know the woman, but the suspect shoots him in the head and walks away. Authorities identified the homicide victim as Robert Godwin, 74, according to CNN.
According to Cleveland.com, the video of the killing remained up on Facebook for almost three hours before it was removed. Stephens' profile page has also been deactivated.
In a press conference, Cleveland mayor Frank Jackson said: "Steve Stephens killed an elderly gentleman. I personally give my condolences to the family of the victim.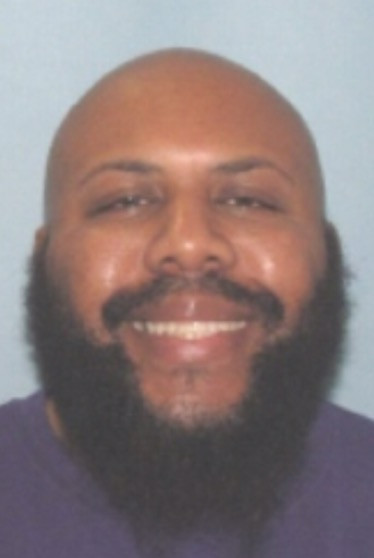 Cleveland Police are searching for Steve Stephens, who allegedly killed someone and broadcast it on Facebook Live
Cleveland Police
"We know who Steve Stephens is and he will be eventually caught. He need not to do anymore harm to any innocent people. Whatever concerns or problems that he's having, we're here to have a conversation."
Mass casualties standby
"We need Steve to turn himself in," police chief Calvin Williams said. "We want this to end with as much peace as we can bring to this right now. If that doesn't happen, we have all our partners in on this and will look until we find him."
Although police said they had not found any other victims, emergency staffers at the Cleveland Clinic is on standby for mass casualties, CBS affiliate WOIO reported.
"We need to get Steve off the streets," Williams added. "There's no need for any more bloodshed."
The suspect was described as a black male, 6ft 1in tall and weighing 244lbs, bald and with a full beard. He was last seen wearing a black or dark blue and grey striped polo shirt. Authorities said he was driving a white Ford Fusion with temporary number plates.
Nervous authorities told students at Cleveland State University to shelter in place or stay away from campus as a precaution while the alleged killer was at large.