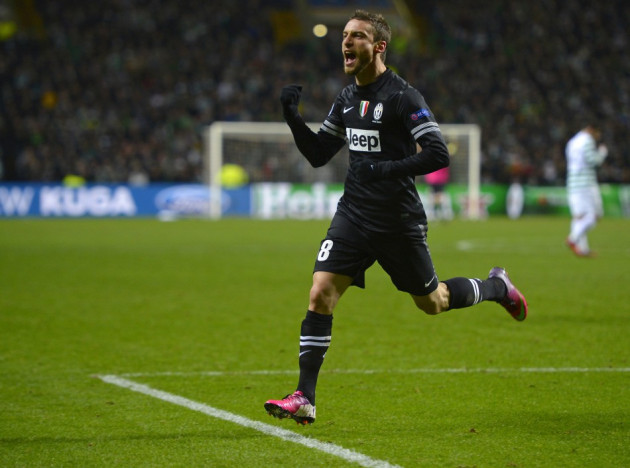 Juventus director Beppe Marotta is adamant only a "sensational offer" will see reported Manchester United target Claudio Marchisio leave the club this summer.
Marchisio claimed over the weekend that offers from the likes of the Premier League champions or Monaco would make him "proud".
But Marotta insists the Italy international, who is currently away on international duty at the Confederations Cup, would demand a massive fee and is not for sale.
"We won't sell him," Marotta exclaimed to calciomercato.
"It seems to me that the clearest demonstration about Marchisio's importance to Juventus was the contract renewal we signed in September 2012 until June 2017 which changed his salary.
"We would only review the situation if a sensational offer arrived that wasn't in line with the market and that, until this moment, hasn't arrived."
Despite making 29 appearances as Juventus strolled to the Serie A title, Marchisio is of the belief he may be surplus to requirement with the Italian giants, claiming that a bid from United or big-spending Monaco would be satisfying.
"I've heard that I might not be so valuable to Juve any more," Marchisio said.
"I've not been told anything by the club or received any offers and I need to speak to Juve to see if I am still an important player for them.
"If that's not the case, it will be normal to look at other teams. It is not only down to me - it has to be the club as well.
"So far, I do not know but if I get offers from Manchester United, or Monaco, I would be very proud.
"We will discover the truth after the Confederations Cup."
The ambitions of Antonio Conte's side, particularly in the Champions League, where they will be seeking to build on their quarter final exit to eventual winners Bayern Munich, suggest Marchisio will remain in his homeland beyond the end of the summer.
That news will represent a blow to United's hopes of improving the depth of their midfield, which could require dramatic surgery with the future of both Darren Fletcher and Anderson both in doubt, while Paul Scholes has retired for a second time.