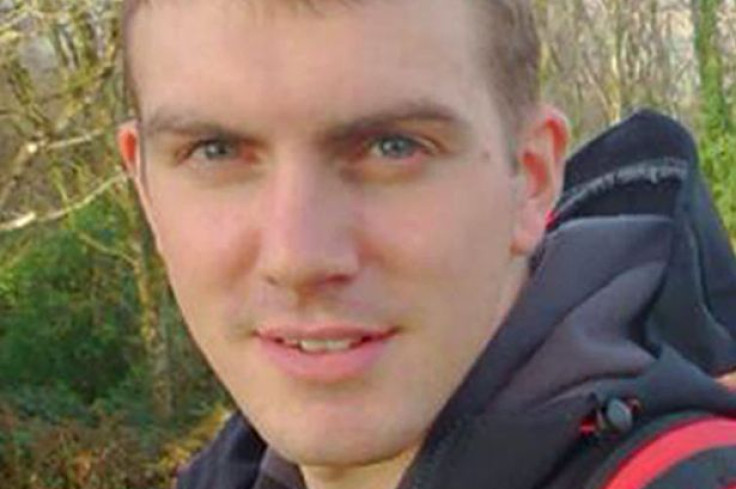 A Royal Marine built explosives for dissident Irish republicans to attack police stations and kill officers, a court was told. A hearing to decide how long Ciarán Maxwell, 31, will serve in prison is taking place at the Old Bailey.
The Larne man stashed anti-personnel mines, mortars, ammunition and 14 pipe bombs in purpose-built hides in Northern Ireland and England.
The court heard that four of the pipe bombs were used in Northern Ireland - and two detonated.
Maxwell also pleaded guilty to drugs and fraud charges. The sentencing hearing is expected to take up to three days.
He appeared in court on Wednesday (27 July) by video link from Woodhill prison in Milton Keynes, where he sat at a desk with a laptop, making notes.
The serviceman claimed after he was arrested on 24 August last year that he had "got in over his head" and had no intention of committing an act of terrorism or killing anyone.
But prosecutor Richard Whittam QC said: "Mr Maxwell repeatedly accepted that the devices would be used by others for terrorist purposes.
"For example, he agreed with the statement that the items were made for the Continuity IRA with the intention of attacking police and police stations."
Purpose-built hides
Maxwell told police he had taken a member of the Continuity IRA to a hide where he had stashed pipe bombs in Northern Ireland.
The court was told the man he took to the hide was Niall Lehd, convicted in 2014 of possession of an explosive substance with intent to endanger life.
Maxwell had handwritten "to-do lists" mentioning "targets, dummy runs and recces" and a number of towns in Northern Ireland.
The exact details were redacted by the court, but the targets included a Territorial Army centre and Ballylumford Power Station.
In one of his hides, Maxwell placed a modified booby-trapped torch which, when armed, would explode if turned on.
Drugs charges
He was a serving Royal Marine with 40 Commando based at Norton Manor Camp in Taunton at the time of the offences and was deployed in the United States, Cyprus and the UK - but not Northern Ireland - after enlisting in 2010.
After his arrest, drugs were found in locker at the camp, including herbal cannabis, cannabis resin, and hallucinogenic drugs DMT and LSD.
The Old Bailey was told that of the four pipe bombs constructed by Maxwell, three were used in Northern Ireland in the past year - in Belfast, Armagh and Carnlough. Only the device in Armagh detonated.
Another pipe bomb made by Maxwell exploded in Larne in 2013. Two of the pipe bombs were used before Maxwell was arrested, and two after.
The court heard that dissident republicans have carried out more than 160 terrorist attacks since 2010 and it was "commonplace" for Northern Ireland-based terrorist groups to conceal bomb-making equipment and other terrorist material in purpose-built hides.