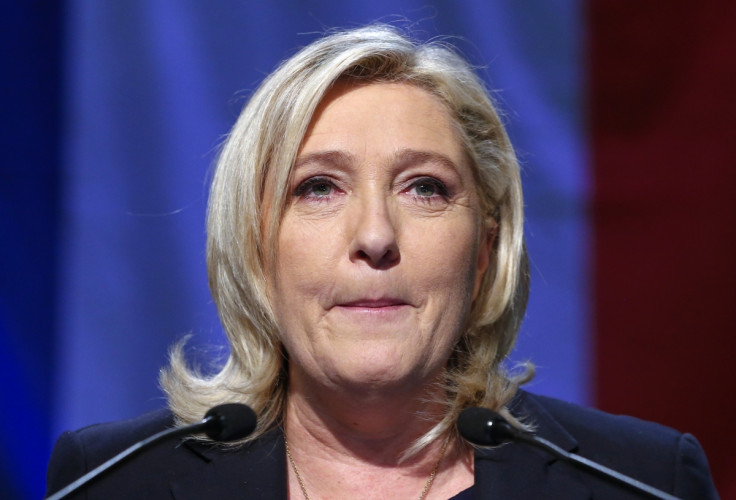 Police in France are investigating Marine Le Pen after she tweeted graphic pictures of Islamic State (Isis) executions of hostages, including the decapitated body of US journalist James Foley. The far-right Front National (FN) leader, in an angry reaction to a radio host who she accused of comparing her party to the terrorist group, posted three graphic pictures of orange-clad hostages being run over by an IS (Daesh) tank before they were burnt alive in a cage and beheaded.
"Daesh is this," she said in a comment to the gruesome images. She later deleted the one showing Foley's bloodied body with his decapitated head on his torso. The US freelance journalist who was captured in Syria in 2012 was executed in August 2014, with a video released by the jihadist group highlighting the event.
The parents of Foley expressed outrage at the tweet saying Le Pen posted a "shamefully uncensored" image of the journalist. "Our family was informed this morning that Marine Le Pen, a French politician, tweeted a shamefully uncensored picture of our son," John and Diane Foley said in a statement on 16 December.
"We are deeply disturbed by the unsolicited use of Jim for Le Pen's political gain and hope that the picture of our son, along with the two other graphic photographs, are taken down immediately."
The prosecutor's office in the western Paris suburb of Nanterre has confirmed it has launched an investigation into "the dissemination of violent images".
Le Pen's tweets caused an angry reaction from her political opponents. Prime Minister Manuel Valls called the images "monstrous" and Interior Minister Bernard Cazeneuve reported the tweets to the police, calling the pictures "Daesh propaganda".
The FN leader had previously been acquitted of inciting hatred after she compared Muslim street prayers to the Nazi occupation. She went on trial in Lyon after four human rights groups sued her on charges of "incitement to discrimination, violence or hatred towards a group of people on the basis of their religion".