Mario + Rabbids is gaming's unlikeliest crossover, and it's a strategy shooter for Switch
Kingdom Battle announced at E3 2017 for August launch.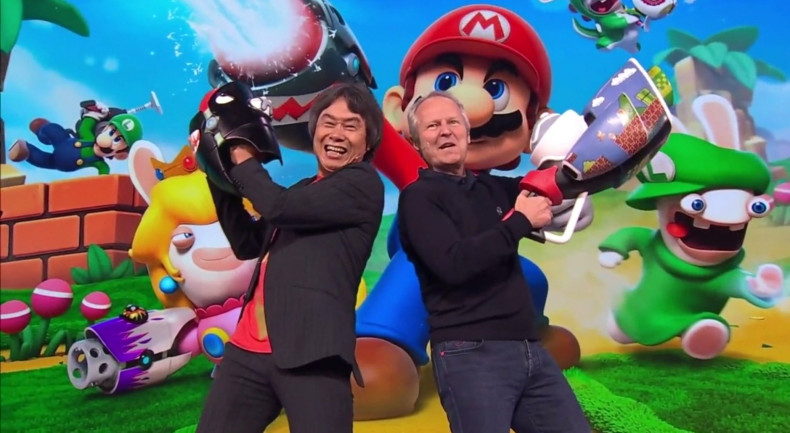 After months of rumours, Mario + Rabbids: Kingdom Battle is finally real. The Ubisoft and Nintendo collaboration brings together the stars of the Mushroom Kingdom and Rayman's crazed rabbit pals in a family-orientated tactical strategy game for Nintendo Switch.
The ridiculous crossover project was officially announced at Ubisoft's E3 2017 conference, with legendary Nintendo director Shigeru Miyamoto taking to the Los Angeles stage armed with a cartoon hand cannon.
Kingdom Battle will launch on Nintendo's home-handheld console on 29 August and is in development by Ubisoft.
It features eight playable characters, including Mario, Luigi, Yoshi, Peach, and four Rabbids in ridiculous cosplay outfits that mimic Nintendo's classic characters.
The game's producer, Xavier Manzanares, talked over the footage, explaining the gameplay basics. Battles between the warring franchises are turn-based and mixes destructible cover, guns, power-ups, Rabbid-ified warp pipes and more.
Industry veteran and former Rare favourite Grant Kirkhope later confirmed in a tweet that he will be providing the jaunty music score that will soundtrack the madcap antics.
Despite numerous leaks pointing to the existence of a "Mario x Rabbids" title even prior to the Switch's launch, it wasn't until a Kotaku article in May that players caught a glimpse of the game's art style and full name.
Now it's all official, it's still hard to believe that it actually exists, but we're so very glad it does.