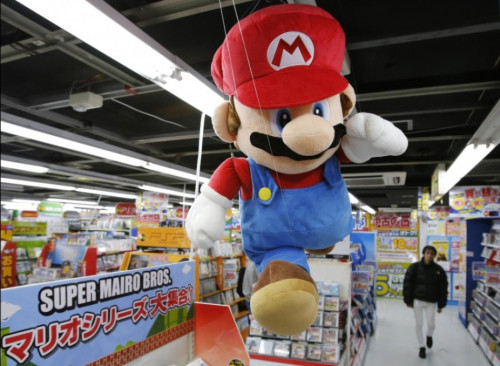 Nintendo is videogame royalty, with iconic games like Mario, Zelda and Metroid instantly recognisable - even by those who are not interested in videogames.
However the Japanese giant has been struggling of late and last week it announced it was now predicting a loss of 25 billion yen (£147 million) for the financial year ending 31 March - having previously predicted a profit of 55bn yen for the same period.
The reason for the downgrade was very weak demand for its flagship Wii U console, slashing sales from 9 million units to just 2.8 million, while game sales where cut in half from 38 million units to just 19 million.
Now Nintendo could be looking to take a radical new direction in order to combat falling sales and growing losses.
Nintendo smartphone
"We are thinking about a new business structure," Nintendo's president Satoru Iwata said at a press conference yesterday in Osaka, Japan accroding to a report by Bloomberg.
"Given the expansion of smart devices, we are naturally studying how smart devices can be used to grow the game-player business. It's not as simple as enabling Mario to move on a smartphone."
In recent years the smartphones revolution has driven gaming mobile with many casual gamers - an audience which Nintendo captured to huge success with the original Wii - moving away from consoles.
PS4 and Xbox One
Traditional gamers continue to be drawn to Sony's PlayStation 4 and Microsoft's Xbox One, which have sold over 4 million and over 3 million units respectively in just one month on sale.
"The videogame market has moved into smartphones and tablets," Mitsushige Akino, chief fund manager at Ichiyoshi Asset Management told Bloomberg. "Nintendo needs to expand from their current hardware business model. It's a structural problem."
Getting into the smartphone market would seem like a strange move for a company which has built its heritage completely on gaming hardware and software.
Crowded
The smartphone market is also a very crowded market with hundreds of manufacturers producing thousands of smartphones every year, with competition over pricing and features fiercely contested.
Nintendo's key selling point would be its stable of software titles, headed by Mario and Zelda, though it would seem like a smarter move by the company to create a software platform on Android and/or iOS where smartphone gamers could buy their titles - rather than producing a specific Nintendo Smartphone.