In December, Mark Cahill became the first person in the UK to have a hand transplant and the lead up to his surgery has been documented in a BBC film.
My New Hand shows how Cahill, 51, was picked for the operation over other potential candidates.
Over a period of more than two years, the documentary follows Professor Simon Kay and his team at Leeds General Infirmary.
The medical team spent a great deal of time meeting potential candidates from all across the UK and beyond, all of whom had lost the use of at least one of their hands.
They included a hairdresser, a DJ, a retired housewife, an IT consultant and a former pub landlord.
Before the surgery could take place, the potential patients had to be thoroughly screened and prepared both physically and psychologically - in hand transplant cases in other countries, patients have rejected the new body part.
The first person to ever have a hand transplant, Clint Hallam from New Zealand, had it removed after 13 years, saying he felt "mentally detached" from the hand.
Some of the potential transplant patients decide the surgery is not for them - it involves potentially life-shortening immunosuppressive drugs for the rest of their lives.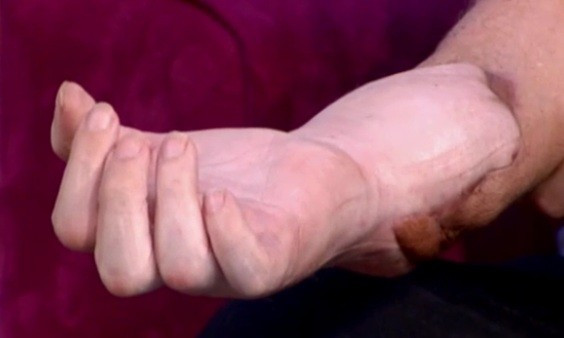 Others said it was worth the risk and, eventually, Cahill was picked for the surgery. The film shows the operation and how the surgeons managed to put someone else's hand on the patient's body.
Cahill lost the use of his own hand to gout and appearing on This Morning, he told how the disease started in his feet and then spread to other parts of his body.
He explained how he had visited the hospital initially to see if they could do anything for him, adding that the process was very quick.
"We had a holiday booked. We didn't expect not to go!" he said. "The way my hand was it was either a prosthetic limb or nothing, so we thought 'let's go for the hand transplant'."
To perform the surgery, Kay first reattached the bones and then worked to connect the tendons and muscle. In total, it took eight hours.
"It was the best thing I've ever seen," Cahill said, retelling the experience of waking up after surgery.
He also thanked the donor who made the transplant possible: "I must thank the donor from the bottom of my heart. It's the best gift that anyone could give."
My New Hand is on BBC1 at 10.35pm tonight (Tuesday).