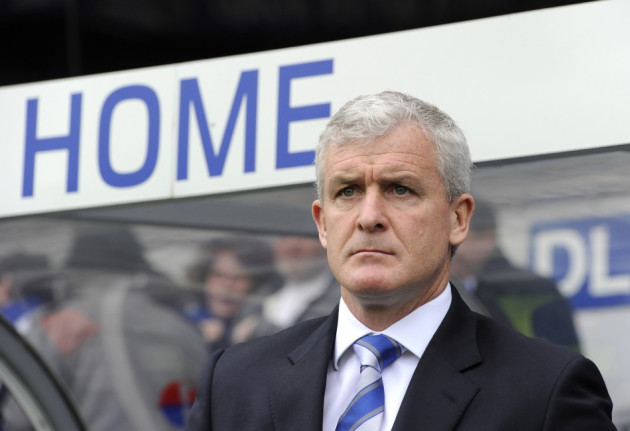 Whether he was volleying into the back of the Oldham net during an FA Cup semi-final, or volleying into the back of Sheffield United's David Tuttle during a routine fixture at Bramhall Lane, Mark Hughes was a truly ferocious competitor throughout his distinguished playing career. His gnarling, ruthless aggression epitomised Sir Alex Ferguson's first great Manchester United team, and he literally left a mark on opponents around the land. Sparky, as he was known, would probably have run through a brick wall without anyone needing to ask.
But Hughes the manager is not Hughes the player. Watching him in the dugout, it is as if Superman has put his suit and glasses back on and gone back to the office for the afternoon. The old hero now cuts a stressed, monochromatic figure, apparently unwilling to unleash the heroic recklessness with which he won so many games for United. And he does not seem to strike the fear of God into his players as he did into so many opponents before hanging up his bloodied boots.
QPR have conceded six goals within the first 20 minutes this season. This statistic suggests the players are starting half-cock, without the necessary grit and attention to detail. Other clubs touted for relegation before the season began, such as Wigan and Sunderland, are going out focused and up for it; Rangers' players need to be jolted with adversity before they start playing. Whatever Hughes is saying in the pre-match team talk, his boys clearly aren't listening.
In fairness, Hughes has bought plenty of bite during his time at Loftus Road. Park Ji Sung will snap at opponents' ankles all day, while Samba Diakete will break them with equal enthusiasm when he is available. But QPR's squad seems to lack heart and collective identity. Unlike other recent Premier League arrivals such as Reading and Swansea, Hughes has dispensed with the core of the team which secured promotion; his squad is now a sanctuary for players who have failed or played out their best days elsewhere.
One gets the impression that most of QPR's squad don't want to be there. Certainly, it's hard to imagine Julio Cesar would have swapped the San Siro for Shepherds Bush in an ideal world. This lack of motivation is compounded by some bizarre strategic decisions - why buy two goalkeepers, in Cesar and Rob Green, but no left back? And why invest in damaged luxuries such as Kieron Dyer when a fight for Premier League survival lies ahead? Hughes' transfer strategy suggests he no longer knows what sort of team he wants to create, and what sort of values he wants to implant.
Hughes' early years in management were built on grit and a Wimbledonesque siege mentality. His Wales and Blackburn teams, which got his managerial career off to a flyer, were forged in a furnace of visceral aggression. But Hughes seems to have discarded that early formula in recent years; perhaps the move to City, and his subsequent dismissal in favour of the uber-suave Italian Roberto Mancini, convinced him that a more sophisticated approach was now required.
But, if he is to avoid being dismissed again, Hughes must rediscover his inner psycho, and start frightening the living daylights out of his QPR squad. If he can't instil some fire into his aimless band of cast-offs, he may end up having to beg for rescue from Joey Barton - and that is something no-one, let alone a man celebrated as Hughes, deserves.