One of the world's most popular Harvard University dropouts, Mark Zuckerberg was invited to give the commencement address at the class of 2017 on 25 May. The CEO of Facebook, while expressing surprise at his alma mater's choice for speaker, was glad to be finally getting his degree, even if it was an honorary one.
After spending time touring his old dorm and the Ivy League campus, Zuckerberg used his time at the podium to offer some pearls of wisdom to the graduating class after joking about his own history with the university.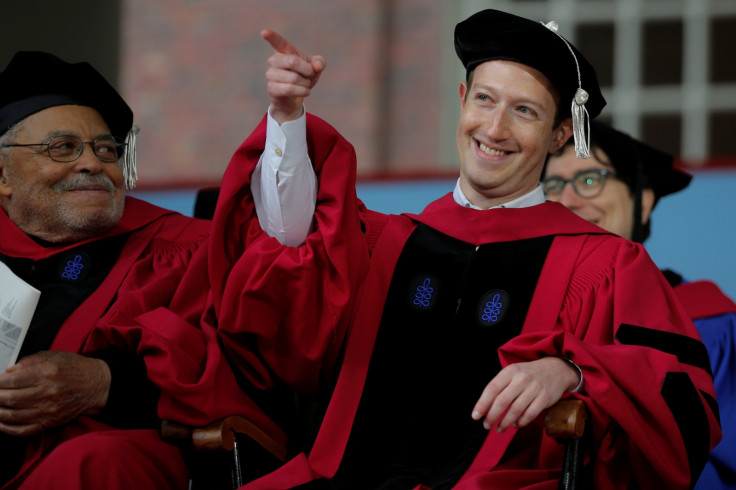 "I'm honoured to be with you today because, let's face it, you accomplished something I never could. If I get through this speech, it'll be the first time I actually finish something at Harvard," he started off.
Turning back to some of his favourite memories at Harvard, the 33-year-old described meeting his wife Priscilla as being his best. "I had just launched this prank website Facemash, and the ad board wanted to 'see me'. Everyone thought I was going to get kicked out. My parents came to help me pack. My friends threw me a going away party," he recalled.
"As luck would have it, Priscilla was at that party with her friend. We met in line for the bathroom in the Pfoho Belltower, and in what must be one of the all time romantic lines, I said: 'I'm going to get kicked out in three days, so we need to go on a date quickly'."
The internet entrepreneur then joked to the young audience that they could probably use the same line now as they prepare to leave the institution.
"Priscilla and I started dating," he said, adding that he did not end up getting expelled. "That movie (The Social Network) made it seem like Facemash was so important to creating Facebook. It wasn't. But without Facemash I wouldn't have met Priscilla, and she's the most important person in my life, so you could say it was the most important thing I built in my time here."
Moving on to advice that he had for this generation of graduates, Zuckerberg encouraged them to find ways to improve personal connection, create generation-defining public works, "redefining equality to give everyone the freedom they need" and the importance of globalisation.
Read Zuckerberg's complete commencement address as published by the Harvard Gazette here.