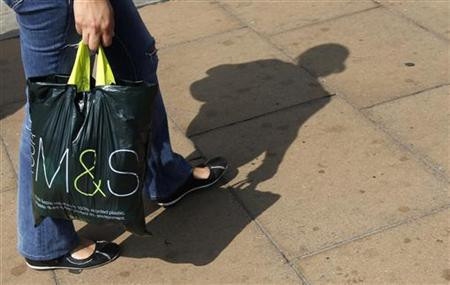 Shares in Marks & Spencer were down on the FTSE 100 in morning trading despite the group reporting a rise in sales and pre-tax profit in the half year period ended 2 October.
The group said that sales were up 5.4 per cent to £4.6 billion, with sales in the UK up 5.6 per cent and International sales rising 3.8 per cent. The group added that it was aiming to achieve group revenues of between £11.5 billion and £12.5 billion by 2013/14.
Like for like sales in the UK were up 4.4 per cent, with General Merchandise rising 6.3 per cent and Food sales up 2.6 per cent.
Pre-tax profit increased from £306.7 million in the half year period last year to £348.6 million this year.
Marks & Spencer said had increased its interim dividend 12.7 per cent to 6.2 pence per share and had reduced its net debt from £2.4 billion to £2.2 billion.
Marc Bolland, Chief Executive of Marks & Spencer, said, "The business is in good shape and we have strong foundations on which to build through evolution not revolution.
"We will begin by focusing on the core UK business. For our customers this means that in Clothing we will improve our core M&S ranges, so that the unique quality, style and fashion of the M&S brand stand out. We will also clarify the position of our sub-brands, moving them from labels to real brands.
"In Food, we will establish a clear market position as a specialist high-quality retailer, inspiring customers with our unrivalled quality and innovation. Our focus will be on fresh, speciality and convenience, bringing the Best of British and Flavours of the World to our customers.
"Over the first three years we will also build our multi-channel and international capability. This will develop M&S into an international multi-channel retailer, making the M&S brand more accessible to more customers around the world."
Keith Bowman, Equity Analyst at Hargreaves Lansdown Stockbrokers, commented, "Mr Bolland is again hoping to draw on his own strengths in marketing in order to inject change and accelerate growth at M&S. Improved definition of 'own branded', normally higher profit margin products, is to provide the focus, with product innovation, increased and better use of store space and a drive to expand online sales all supplementing. Building on the group's strength in the UK is to remain core, with a drive to increase international diversification spearheaded by online initiatives.
"Moves into electrical sales and branded food sales - initiatives undertaken by the former CEO Stuart Rose - are to be withdrawn or rolled back, whilst a previous drive to improve logistics and the supply chain is being accelerated. Furthermore, investment in the business is being increased, while the pursuit of a progressive dividend policy has been underlined.
"In all, the new strategy does come with risks. The M&S brand has relied on an ageing customer base for some time now, with Mr Bolland hoping that he can excite younger fashion orientated consumers. A move away from big branded food products could diminish the potential to increase the company as the destination for the 'big weekly shop', while a slow pace of international growth might leave the door open for others in the meantime to build market share. With the shares outperforming the wider retail sector by 7.6pc over the last quarter in anticipation of the strategy update, expectations look to have run ahead of reality, with the shares suffering some profit taking in early trade. For now, market consensus opinion continues to denote a hold."
By 09:10 shares in Marks & Spencer were down 1.94 per cent on the FTSE 100 to 405.20 pence per share.