Martin Freeman says 'stakes get bigger' in Sherlock season 4, teases changes in Holmes-Watson friendship
Sherlock season 4 will premiere on 1 January on BBC One.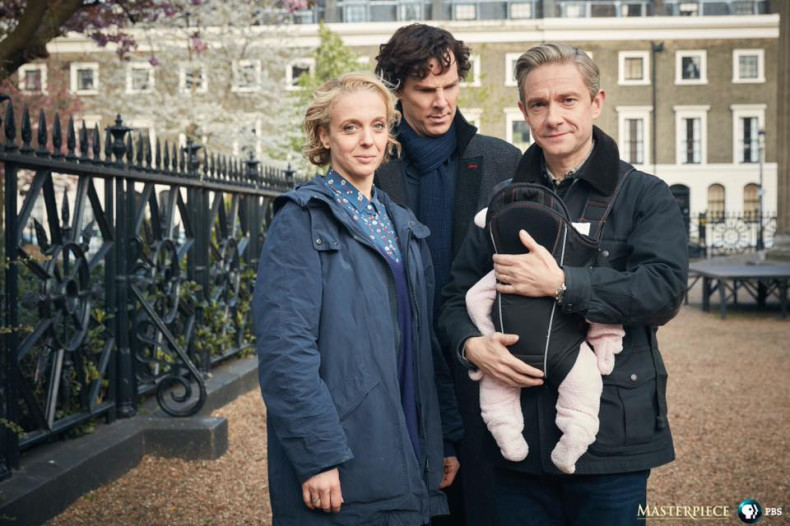 BBC's hit drama Sherlock will return with its 4th season on 1 January with Benedict Cumberbatch and Martin Freeman reprising their role as detective duo Sherlock Holmes and John Watson. The latest season will feature a new villain (played by Toby Jones) and the arrival of John and Mary's baby, and changes in Sherlock-Watson's friendship.
Martin Freeman spoke to Entertainment Weekly about season 4 plot and how a baby Watson's arrival will change things on the show. The Fargo actor said, "We are going to have a Baby Watson. John and Mary's relationship has moved on. We left them last time that Mary was pregnant, so we join them this time and there is a baby."
According to the 45-year-old actor, the baby's arrival will have a "dynamic effect" on Sherlock and Watson's friendship. "I suppose it would follow on from John and Mary becoming parents, and that inevitable responsibility that comes with that. Stakes get bigger. What might have been a little bit of fun three weeks ago is now kind of serious, because you are responsible for someone else's life," Freeman said.
Teasing some changes afoot, the actor explained, "And I think obviously what happens when one friend has a child and gets buddied up with somebody else then that immediately has a dynamic effect on the friendship. I don't want to give anything away, but there are some changes afoot."
Freeman then went on to share his thoughts on the new Sherlock villain, to be played by Toby Jones. "He's fantastic. Toby is a really good actor and a very lovely man. It's nice to have him around on set. For someone who essentially is such a sweet person, he does creepy very well. That character is maybe the most dark-hearted character that we've ever had, including Magnussen and Moriarty, maybe even. He's someone who truly turns Sherlock and John's stomachs and who they really do want to bring down. They want to take him down."
The season 4 premiere episode is titled, The Six Thatchers, and the official synopsis for the chapter reads as follows:
One mysterious case in particular baffles Scotland Yard - but Sherlock is more interested in a seemingly-trivial detail. Why is someone destroying images of the late Prime Minister Margaret Thatcher? Is there a madman on the loose? Or is there a much darker purpose at work? Something with its roots deep in Mary Watson's past.