In a bid to encourage more women in India to consider online dating when seeking a partner, an app developer has launched Masque – a new anonymous dating app that makes users feel more comfortable when getting to know potential love matches and helps them avoid the pitfalls of meeting strangers online.
The app is the brainchild of Nimbuzz, a popular messaging app with over 150 million users in 200 countries worldwide. Masque is available for iOS, Android and Windows Phone smartphones and enables users to meet people they don't know who are located near them.
The app matches users based on their age, gender and location, and users can flirt anonymously with new matches through messaging.
Users can also send each other stickers and communicate using emojis and, in a similar way to SnapChat, can share photos, videos and audio messages of themselves which self-destruct once they are opened by the other party.
Improving safety in online dating
"I think anonymity is much safer than revealing your details up front. I'd much rather be anonymous on a dating site. You have a chance to reveal your identity later once you've found out more about that person," Nimbuzz CEO Vikas Saxena told IBTimes UK.
"It's your choice. You are also able to confirm whether the person you are talking to is telling the truth – about their appearance, for example – through self-destructive pictures, videos and audio messages."
Although the app is available to users anywhere in the world, Nimbuzz's biggest markets are currently in India, South Asia, the Middle East and North Africa.
People in India are slowly moving away from traditional arranged marriages and are starting to date instead, some with the help of Shaadi.com, an online matrimonial market that is the largest in the world.
However, many women in India do not use dating sites for fear of attracting a large swarm of unwanted suitors. And there is also a big problem with fake profiles (a problem that China's online dating scene shares).
Slow move away from arranged marriages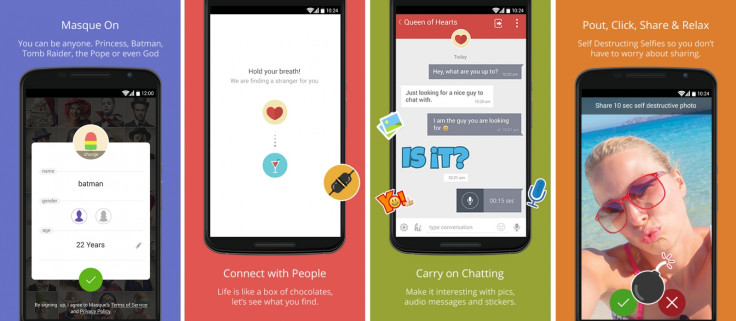 According to Unicef, arranged marriages still make up 90% of all marriages in the country, and many people are nervous about posting public profiles in case their friends and families disapprove.
Thus apps like Tinder, where fake profiles are rife, are not seeing as big an uptake in the country as they do in the west, although Tinder is a hit with some young people in big cities like New Delhi and Mumbai.
Saxena says that what makes Masque safer than Tinder is the fact that the user might be anonymous, but they can't get away with making numerous fake profiles.
"Unlike anonymity on forums where you can easily make many profiles, on Masque your user ID is tied to your phone number and device," he said.
"Conversations are also tightly controlled with abuse-control mechanisms so it's easy to stop the kind of irresponsible behaviour you find on computer forums."
Reaching out to the West
There is a trend of Western dating sites crossing over to mobile by creating companion apps, such as OKCupid, but fake profiles are still not monitored very strictly and the app is not tied to a user's mobile number.
Nimbuzz, which was recently acquired by New Call Telecom in the UK, is keen to make a big push into the West. To that end, Masque is being launched this week in San Francisco, and will be launched in the Middle East in March.
However, the firm is keen to stick with mobile apps, rather than making its apps tie-in with the PC like Skype, for example.
"We are unapologetically mobile-first. That's where the massive user-growth is taking place across the world, especially in South Asia," said Saxena.
"I think Masque is in a uniquely strong position as a dating app. Dating websites have a strong track-record online of being able to charge for premium features. That's something we're actively considering; for example, we might charge for in-app calling or better access to user-rating metrics."