Oops. Xbox appears to have leaked the release dates of the biggest games set for release in the early months of 2017. Dates for both Mass Effect Andromeda and Injustice 2 have appeared on its website as part of a pre-order reward scheme.
Spotted by Bleeding Cool, the dates appear on a page of the Xbox Rewards site, which is currently offering up 15,000 reward points to members of the scheme who pre-order three games digitally from a set list before 31 March, 2017.
Among the games are Injustice 2, for which it states a 28 March launch date and Mass Effect: Andromeda, which has been given a 31 March release.
We've screen-grabbed the page for prosperity below, should Xbox rectify its apparent mistake.
Neither game has been given a solid release date as of yet, but EA has stated on multiple occasions that Mass Effect: Andromeda would be released before the end of the financial year in April. This means the 31 March date may be a placeholder.
However, there has been nothing regarding the release of Injustice 2 so its release date seems fairly solid and that may, in turn, lend credibility to the Mass Effect date.
Mass Effect: Andromeda is the fourth entry in BioWare's sci-fi series, and starts a new story with new characters on a mission to explore the Andromeda galaxy. Injustice 2 meanwhile is the sequel to Mortal Kombat-developer NetherRealm's fighter, set in the DC Comics universe.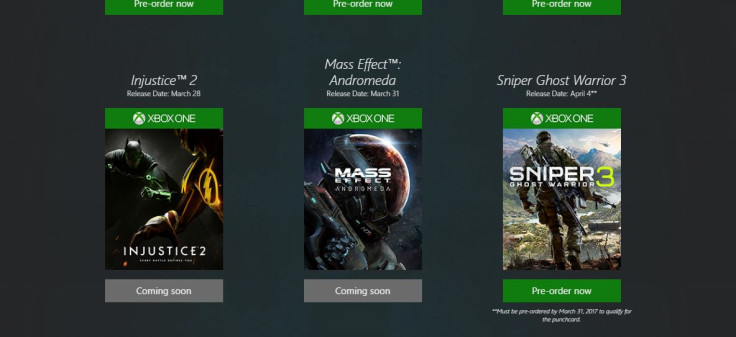 For all the latest video game news follow us on Twitter @IBTGamesUK