Video game preview 2017: Part 1 – Crackdown 3, Ghost Recon Wildlands, Tekken 7 and more
The IBTimes UK gaming team kicks off its preview of the most exciting games due in the next 12 months.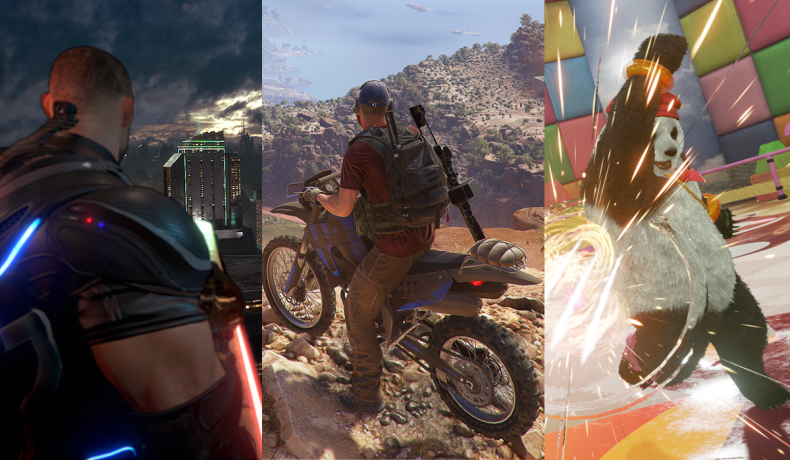 For most, 2016 felt like an endless stream of repeated kicks to the genitals. Thankfully a host of superb games - including our Game of the Year, Overwatch - made the year a little more bearable.
With the release schedule for 2017 looking equally stacked with high-budget sequels and bold new IP, IBTimes UK has compiled a list of the games we are most excited to get our hands on over the next 12 months.
We managed to whittle the list down to a (still eye-watering) fifty games, which we've split into five parts. In the final part (due 6 January) we will reveal our top ten most anticipated games of 2017.
For now though, let's crack on with the first ten in no particular order:
Crackdown 3 (Xbox One, PC)

Despite a shock no-show at E3 2016 and no new footage or gameplay details since 2015, Crackdown 3 is still undoubtedly one of Microsoft's biggest hitters this year. Developer Reagent Games has promised a barnstorming return to the original Crackdown game's chaotic sandbox roots, with mass scale destruction enabled by fancy cloud computing tech. It's time, Agents.
Release date: Winter
Tom Clancy's Ghost Recon: Wildlands (PS4, Xbox One, PC)

While it's the Tom Clancy-branded game that isn't the Tom Clancy-branded game we wanted (seriously, where is Splinter Cell?), Ubisoft is betting big on its latest "tactical" open-world third person-shooter, especially after it's last MMO-lite co-op gun-fest - The Division - failed to set the world on fire. Second time's a charm?
Release date: 7 March
Tacoma (Xbox One, PC)


Oregon-based indie developer Fullbright's sophomore outing and follow-up to Gone Home is still something of an unknown quantity. We know it's set on a gaudy, BioShock-esque "Lunar Transfer Station" with augmented reality avatars in place of its crew, but otherwise? No idea. Then again, Gone Home was great, so this should be a good'un.
Release date: Spring
Nier: Automata (PS4, PC)

An unexpected (and then some) semi-sequel to 2010's oddly-named Nier, this ostensibly cookie-cutter post-apocalyptic action RPG comes with a key disclaimer: the king of frenetic hack-and-slash craft Platinum Games is at the helm. Early impressions based on a late 2016 demo have been overwhelmingly positive to boot.
Release date: 10 March (PC release TBA)
Pyre (PS4, PC)

Bastion and Transistor creator Supergiant Games brings its unique brand of isometric indie loveliness to the mystical realm of high fantasy with Pyre, a game constructed from a peculiar mix of party-based RPG lore-craft and... NBA Jam? Could well be a slam dunk (sorry).
Release date: TBA
Tekken 7 (PS4, Xbox One, PC)

It has somehow been a full decade since the last 1v1 Tekken game hit home consoles, but the venerable franchise is fighting back in 2017. Powered for the first time by the Unreal Engine, Tekken 7 will introduce new characters, two awesomely-named new mechanics - Rage Art and Power Crush - and some form of virtual reality support exclusively for PlayStation VR.
Release date: Spring/Summer
Days Gone (PS4)

Bend Studio's open-world zombie party Days Gone seems to have an identity crisis, mostly because it doesn't really have one. It's a bit The Walking Dead-ish and has more than a touch of The Last of Us about its verdant post-apocalyptic aesthetic. Here's hoping the creators of Syphon Filter (remember Syphon Filter?) can add something unique to the game's derivative setting.
Release date: TBA
Lego Worlds (PS4, Xbox One, PC)

Longstanding Lego game developer TT Games finds itself on the losing end of a chicken/egg situation with Minecraft and its own procedurally generated sandbox build-a-thon, but the generally positive response to the Steam Early Access release of Lego Worlds bodes well for its upcoming console launch.
Release date: 24 February
Sonic Mania (PS4, Xbox One, PC)

Of the two Sonic games celebrating the pacey blue hog's 25th birthday, we've picked Sonic Mania over "Project Sonic 2017", because nostalgia is a wonderful thing. Sega's jazzy reveal trailer proudly claimed the former gaming giant is returning to the series' retro roots for this all-new 2D platformer with a smattering of re-made "Zones" from Sonic's halcyon Mega Drive years for good measure.
Release date: Summer
Friday the 13th: The Game (PS4, Xbox One, PC)

Based on the seminal (if a bit naff) 1980s slasher franchise of the same name, this two-part semi-open world horror title hides a wicked trick up its blood-splattered sleeves. The single player mode planned for a summer release sounds decent, but we're really up for the 1v7 asymmetric online multiplayer where one lucky bugger gets to prey on unsuspecting teens as Jason Voorhees himself.
Release date: October