Mass Effect Andromeda: PS4 Pro trailer shows 4K HDR gameplay from BioWare's sci-fi sequel
EA attended Sony's PlayStation meeting event to showcase footage from its next Mass Effect game.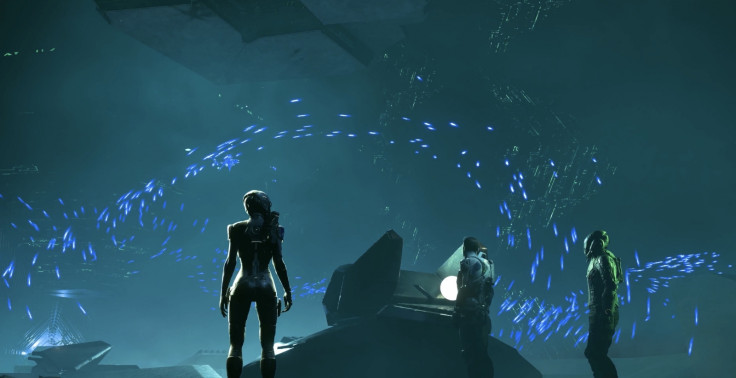 BioWare showed up at Sony's PlayStation event this evening (7 September) to show off the first extensive look at gameplay from upcoming sci-fi sequel Mass Effect Andromeda. The footage showed protagonist Ryder walking and jet-packing through a distinctly alien environment.
The footage - later dubbed a "4K Tech Video" - also shows Ryder, several human characters and a previously revealed Asari character discovering a holographic map before being chased down by robotic drones.
The brief glimpse at gameplay (embedded below) was revealed to be running on Sony's newly-announced PS4 Pro console. The summary reads: "The power of 4K on PS4 Pro allows us to bring a whole new galaxy to life with crisper visuals, high dynamic range lighting, HDR10 support (Dolby Vision on PC), and some of the most lifelike characters we've ever created."
The footage's voiceover track from BioWare general manager Aaryn Flynn also reveals that "officially open the doors to the next chapter of the Mass Effect universe" on 7 November with a full debut trailer.
Mass Effect fans were left disappointed by the game's lacking presence at EA's E3 2016 press conference in June. New footage was shown off, but in the form of a developer diary, with no details on the game's immediate plot or new gameplay features.
During E3 BioWare confirmed that the game's protagonist would be called Ryder, something which had been a popular theory among fans following evidence spotted in a brief trailer released in November 2015.
BioWare also discussed how Andromeda will be dropping the Paragon/Renegade morality system of the first three games for something less binary, which would reflect the moral shades of grey involved in the player's decisions.
Mass Effect Andromeda is set for release on PS4, Xbox One and PC in early 2017.
For all the latest video game news follow us on Twitter @IBTGamesUK.
© Copyright IBTimes 2023. All rights reserved.