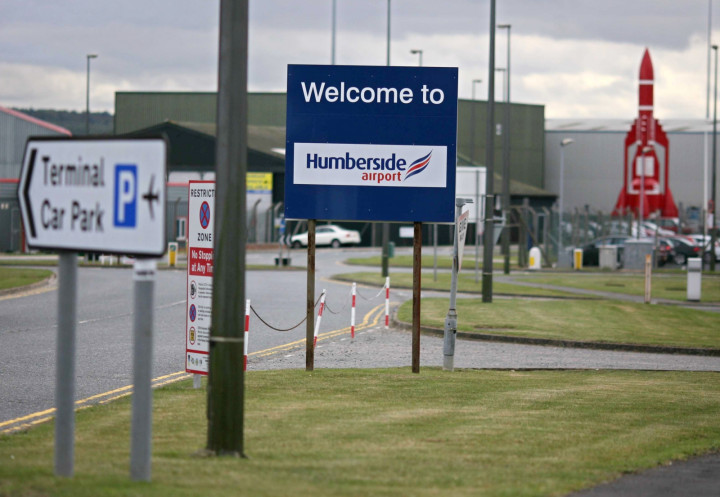 A man who went on a "bizarre and reckless" joyride on Humberside Airport runway has been jailed for three years and eight months.
Mathew Dobson, 40, admitted a series of driving offences, car theft and recklessly endangering an aircraft after crashing through the airport's fencing and careering around on the runaway while a passenger flight was waiting to land.
On 5 August, Dobson stole a Renault Clio from a house in Grimsby and drove off with the owner still locked inside his property.
After speeding away, Dobson then performed a series of dangerous manoeuvres to overtake other cars during rush hour traffic while the police were in pursuit.
He eventually made it to Humberside Airport, where he drove through the perimeter fencing and onto the runway.
After driving underneath a helicopter which was taking off, Dobson hurtled across the tarmac at speeds of up to 80mph.
He then abandoned the car, and was later found lying down in the grass in a futile attempt to hide. When challenged, he said he was a farmer.
During the incident, a KLM passenger flight was due to land on the runway. It was put in a holding pattern and had seven minutes left to divert to a different airfield to ensure it had enough fuel left to land somewhere safely.
Dobson has now been jailed after pleading guilty at Grimsby Crown Court to a series of offences.
Jeremy Evans, Crown Advocate, CPS Yorkshire and Humberside, said: "This bizarre crime spree was extraordinarily dangerous and reckless, putting many peoples' lives at risk.
"Matthew Dobson acted with utter impunity and demonstrated a complete and appalling lack of concern for his or anyone else's safety. He took it upon himself to commit this series of offences and it was sheer fortune that no tragedy occurred that day.
"I would like to thank the victims and witnesses who came forward to give evidence in this unprecedented case."