On Wednesday (13 April), in a California courtroom, journalist Matthew Keys was sentenced to two years in prison for conspiring with members of Anonymous to hack the LA Times website. Keys provided the activists with login passwords to the content management system (CMS) used by the paper, resulting in a defaced news story.
On Thursday (14 April), IBTimes UK spoke exclusively to Keys, who opened up about his future, flawed computer crime laws and why he wants people to stop labelling him a hacker.
Keys was sentenced for breaching employer KTXL Fox40's terms of agreement for a CMS that belonged to Tribune Media, publisher of LA Times. As web producer and network site administrator for the TV station, which is also owned by Tribune, Keys passed its login credentials for Tribune's CMS to Anonymous.
Despite his conviction on three counts of criminal hacking under the Computer Fraud and Abuse Act (CFAA), including conspiracy to damage a protected computer, transmission of a malicious code and attempted transmission of a malicious code, Keys refutes allegations of intentionally breaching any computer system, and is appealing his sentence.
"I'm not a hacker. I've never been accused of being a hacker or of hacking into a computer," he told IBTimes UK. "I was, very early on, accused of not complying with a federal law enforcement investigation into a group of self-proclaimed hackers. I was accused of not turning over my source material on demand. This has been dismissed by the prosecution and the court itself as errant speculation. But it's not speculation. It is well documented."
The original accusations, which started over five years ago, came after Keys had reportedly been investigating the Anonymous collective for a number of freelance articles. The 'source material' gathered during this process, Keys argues, is one big reason why he was targeted by the FBI.
"When you look at [the FBI's] investigation early on, it's very clear to see I was targeted for my work as a journalist," he said. "In April 2011, a FBI agent called me to inquire about my source material. When I refused to hand it over, I was targeted in a criminal investigation opened several months later. Under that investigation, the FBI was able to seize my source material pursuant to a criminal warrant. When the FBI must have realised there was no identifying information in my source material, they sought to justify the amount of time, money and resources spent on the investigation by levying baseless criminal charges against me."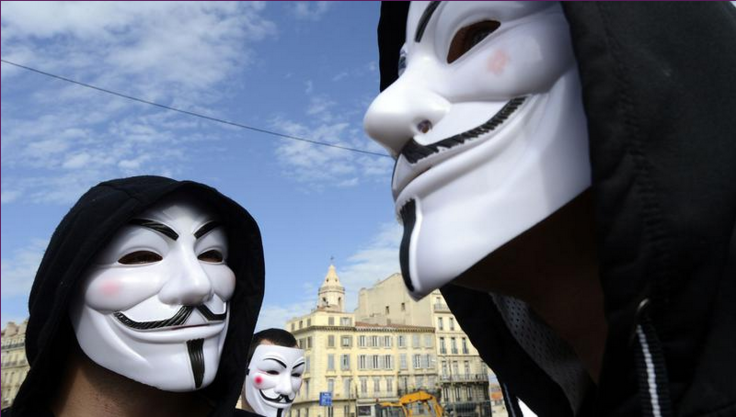 The case that would come to play out in detail over the next four years, centred on online intrusion and web vandalism. Indeed court filings show that even early on, the charges were framed as a 'conspiracy'. However, the evidence against Keys quickly mounted.
The 2013 indictment outlined how Keys, under the pseudonym 'AESCracked', reportedly provided an access login to the Tribune-owned LA Times website to an Anonymous member under the title 'Sharpie'. The hacktivist then reportedly logged in and altered a news story to include the phrase "reluctant House Democrats told to SUCK IT UP". The defacement was live for just over half an hour, and as Keys points out, involved no actual hacking. Furthermore, the so-called hacker responsible for the breach is both known to the authorities and walking free.
The Tribune, meanwhile, has said the breach cost at least $5,000 to fix and investigate. While the money undoubtedly went toward bulking up website security, as technology website Motherboard pointed out at the time, the sum is also the threshold amount for bringing forward charges under the controversial Computer Fraud and Abuse Act.
"Today's computer crime laws are antiquated and draconian. They criminalise often benign computer behaviour," Keys told IBTimes UK, adding that under current legislation, even sharing Netflix passwords could be considered breaking the rules.
"Worse, offences under the [law] are considered crimes of terrorism by federal definition," he continued. "To that end, federal agents can – and often do – investigate these offences as matters of homeland security and are afforded methods and opportunities that go beyond those of a normal investigation. In my case, it is documented that they investigated my source material pursuant to the guidelines of a homeland security investigation. People – especially those in sensitive positions – should care about these things."
That's not to say that Keys wants the internet to be a wild west without rules. He stressed to IBTimes UK that laws should exist to police misuse, but they should be more nuanced, he said. "There are two ways to fix this problem," he explained. "The first is to fight bulls**t prosecutions brought under this law, as we did, and the second is to encourage lawmakers to pass common sense laws with respect to computer and internet use. Unfortunately, Congress has shown a willingness to strengthen the law so that it further restricts online behaviour with tighter punishments, so it appears the best course of action is to fight prosecutions. We are doing just that."
In light of recent events, this is a defiant stance, but one that Keys appears to embrace. Indeed, throughout this trial many theorised that his unwillingness to 'play ball' with law enforcement did him no favours. And true to form, the prosecuted journalist did not hold back when it came to criticising the US justice system. "With each conviction, a US attorney's office justifies its existence," he said. "Prosecutors sometimes use their discretion, not in the interest of justice, but in the interest of federal funding."
He added: "It is depressing to think that prosecutors would abuse their discretion merely to justify their own existence. This isn't a grand revelation though — much of the public has known about this for years — but it took me going through the process to realise it. When prosecutors attempt to argue that a person's outspoken comments on bulls**t prosecutions do not promote respect for the law, they fail to see that their own actions are a greater instigator of public discourse on our broken judicial system."
There is little doubt the shadow of the 2015 conviction has impacted Keys' working life. After being let go from news organisation Grasswire earlier this year when the website failed to secure a new round of funding, Keys said the entire process has taken its toll. "I've lost friends and job opportunities thanks to the cloud of a criminal case and subsequent conviction hanging over my head," he admitted. "I've focused instead on my family, the opportunities and friends that I have, and the audience that has stuck by me. I've made every attempt to serve the audience that I have by producing journalism in the public interest – sometimes for meagre compensation, sometimes for free."
Support for Keys
And through his online work, Keys has become well known for his embrace of social media, especially Twitter. After his sentencing was made public, he encountered a swell of support from those who felt the punishment didn't fit the crime. "They're hunting journalists now. Free speech is dead," wrote one user. Another stated: "Interesting how @MatthewKeysLive was sentenced to prison, but the actual hackers never were." Even NSA whistleblower Edward Snowden chimed in.
"I'm incredibly grateful for the support that I've received over the last 24 hours," Keys told IBTimes UK. "I hope the latest wave of attention to my case fuels action that results in a modification to existing federal statutes governing computers and the internet, and that those laws are brought more in line with today's online behaviour."
Looking back, it would be easy to assume that Keys, given a time machine and zapped back to 2009, would do things differently. However, he isn't so sure. "There are times when I wonder if accepting the job at KTXL FOX40 was the right move, especially given the callousness of the Tribune Company with respect to my position in this process," he said. "But I'm incredibly proud of the work I did at FOX40. I'm appreciative of the opportunity they gave me... there's a good chance that, had I not taken that opportunity, my life would be very different today."
Keys and his legal team are now planning to appeal the sentencing.