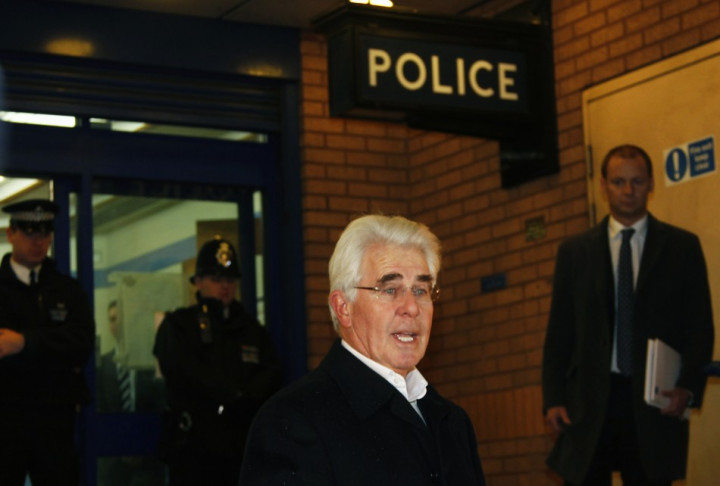 Max Clifford stood on the steps of a London police station to insist he was not guilty of sex abuse after being interrogated all day by police.
The celebrity PR guru was arrested by police in an early morning raid on his country house in Surrey. Officers swooped on the property and carried away a number of black bags, believed to contain Clifford's personal possessions.
The arrest was made under Operation Yewtree, a sweeping investigation into sexual abuse set up after the Jimmy Savile paedophile scandal. However Clifford's arrest was not directly related to the allegations against Savile.
Clifford said the allegations date back 35 years, and insisted he was totally innocent.
Speaking outside Belgravia police station, the 69-year-old told reporters: "These allegations are damaging and totally untrue. On a personal level they are very distressing for myself, my wife, my family and loved ones.
"Anyone who really knew me all those years ago and those who have known me since will have no doubt that I would never act in the way that I have today been accused. I have nothing more to add."
Prior to his arrest, Clifford made a number of public pronouncements on the sex scandal which has engulfed the worlds of politics and showbusiness over the past two months.
The publicist, whose clients include pop mogul Simon Cowell and singer Cheryl Cole, said celebrities were living in fear of being tarnished by allegations from the distant past.
"It is a situation which could easily turn into a witch-hunt; a lot of big stars are frightened," Clifford told ITV's Daybreak.
"Where is it going to end? I hope they (the police) concentrate on finding people like Jimmy Savile who were manipulating girls."
A Scotland Yard spokesman said: "The man from Surrey was arrested at 07:40hrs on suspicion of sexual offences and was taken to a central London police station.
"He has since been bailed until a date later this month.
"The individual falls under the strand of the investigation we have termed 'Others'. We are not prepared to discuss further."
Elsewhere veteran sports broadcaster Stuart Hall has also denied he sexually abused children, having been charged with counts of indecent assault on girls between 1974 and 1984.
His lawyer said: "Stuart Hall is innocent of these charges. It is a matter of concern that in the week following the publication of the Leveson report, there appears to have been systematic leaks to the media which have given a misleading impression of what this case is about."
Hall will appear before Preston Magistates court next month.
Max Clifford: Sex Crime Allegations 'Horrible - But I Fight on' [VIDEO]