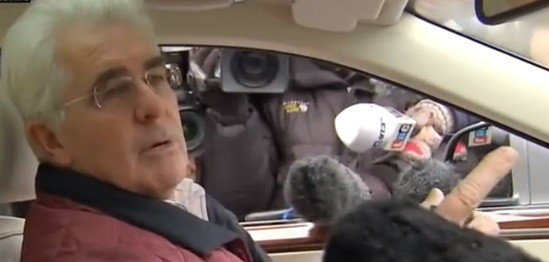 PR guru Max Clifford has stressed that he is not guilty of sex abuse after an all-day interrogation by detectives with Operation Yewtree, set up in the wake of the Jimmy Savile scandal.
Clifford told reporters camped on the doorstep of his Surrey home that he refused to let allegations against him wreck his life.
The 69-year-old was arrested by Metropolitan Police officers although his arrest was not connected to the allegations against Savile.
"It's distressing for my wife Joan and my daughter Louise and loved ones. Hopefully, I can get back to life," he told reporters.
"For everyone who knows me and cares, it's a horrible experience but you have face up to these things.
"I'll spend the next weeks working as I always do and trying to make things as normal as I possibly can in the circumstances. All I can say is that they [the allegations] are totally without foundation and are untrue. I think one was in 1977 and the other was a few years afterwards. Both are totally without any foundation at all.
"I'd been there about 12 hours sitting in cells and being asked questions for hours and hours. I wasn't exactly a bundle of joy, but I still came out and spoke to the cameras and spoke to everybody, because I have absolutely nothing to hide.
"It's a horrible thing to happen to anybody, but I'm old enough and ugly enough to face it and sort it out. This is what I've got to do.
"The police have got to look into it and I've got to show clearly and conclusively that there's no truth in any of these. All I know is what's happened to me, there is no justification."
Police held Clifford in Belgravia police station for much of Thursday.