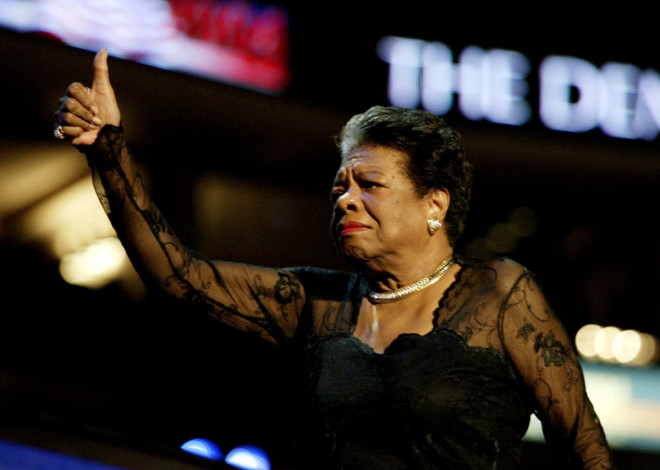 Millions of people are in mourning following the death of Maya Angelou, one of the world's most recognisable literary legends.
The accomplished poet, actress, civil rights activist and professor passed away at her home in Winston-Salem, North Carolina after a bout of illness.
During her lifetime Angelou shared her passions, talents, and inspiring words with the world through multiple platforms and it is for that reason her legacy will live on for generations to come.
Early Years
Born Marguerite Johnson in April 4, 1928, Angelou's childhood was left shattered when her parents divorced and her mother's boyfriend raped her at the age of eight.
Shortly after she named her attacker, he was murdered by her uncles. Feeling responsible for his death, she became mute for almost five years.
"I thought 'my voice killed him; I killed that man, because I told his name.' And then I thought I would never speak again, because my voice would kill anyone," she later admitted.
According to Angelou it was during her years of silence that she developed her love of dance and drama and was first introduced to authors such as Charles Dickens, William Shakespeare, Frances Harper, Anne Spencer, and Jessie Fauset.
These key moments would go on to shape her life and help her become 'America's Poet'.
Career
Angelou burst onto the music scene in 1957 with her debut album Miss Calypso, shortly after her marriage to Tosh Angelos ended. Although she toured the US perfoming in various clubs, the album failed to climb the charts.
Having mastered several languages, the then-single mother ventured into the literary world in 1969 when she published her first book 'I Know Why The Caged Bird Sings', which was also her memoir.
The tome, which chronicles her life until the age of 17, dealt with racism, child molestation and sexuality and quickly climbed to the top of the bestsellers list.
Following her success Angelou became the first-ever African-American woman to write a screenplay, which was filmed when she wrote the 1972 film 'Georgia, Georgia'.
It was after meeting Malcom X in Ghana in 1964 that Angelou became involved in the civil rights movement, and helped the activist form the Organisation of Afro-American Unity.
In 1965 Martin Luther King Jr appointed her as the northern coordinator for the Southern Christian Leadership Conference.
During her illustrious career she published 30 works of fiction and non-fiction which including five memoirs.
As a talented poet, she published a varied and hugely influential anthology which includes And I Still Arise and I'm a Rainbow In Somebody's Cloud. The collection earned her over 50 awards.
Legacy
Angelou went from being a young single mother who worked at strip clubs to earn a living to an icon who mentored presidents and stas including Oprah Winfrey.
In 2011, her fight against racial inequality was recognised on the international stage when President Obama awarded her the Presidential Medal of Freedom.
Angelou once said: "I am a Woman, Phenomenally. Phenomenal Woman, that's me."
And she was right. Her story, her fortune and her journey was unquestionably that of a phenomenal woman.