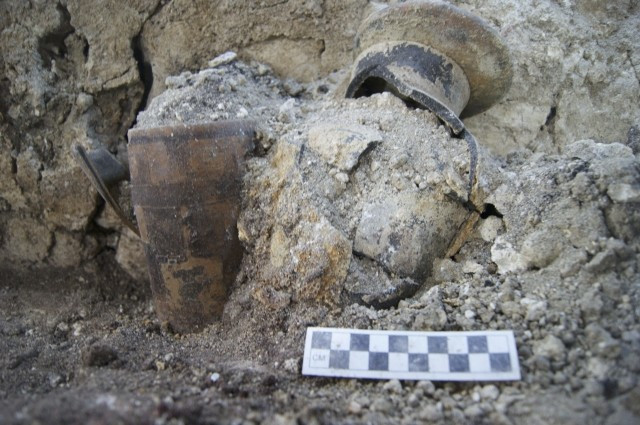 Archaeologists have unearthed the royal tomb of the Mayan queen Kalomt'e K'abel in Peten, north of Guatemala City. Also called Lady K'abel, Kalomt'e K'abel was the wife of K'inich Bahlam, the seventh century ruler of the Wak kingdom of the Classic period of the Mayan civilisation.
The ancient grave, at the archaeological site of El Peru in Laguna del Tigre National Park, was excavated in June and the archaeologists have made their announcement based on the recovery of a white alabaster jar and other ceramic vessels found in the burial chamber.
"The white jar is carved as a conch shell, with a head and arm of an aged woman emerging from the opening. The depiction of the woman, mature with a lined face and a strand of hair in front of her ear, and four glyphs carved into the jar, point to the jar as belonging to K'abel," archaeologists at the Washington University in St Louis (WUSTL), who were a part of the excavation team, explained.
According to WUSTL's David Freidel, the co-director of the expedition and a Mayan scholar, stone slab carvings on the outside of the grave further suggest the tomb is likely that of K'abel. He called the tomb a "rare" finding of both archaeological and historical significance.
"The precise nature of the text and image information on the white stone jar and its tomb context constitute a remarkable and rare conjunction of these two kinds (archaeological and historical) of records in the Maya area," Freidel, who is a professor of anthropology, said.
Lady K'abel ruled, with her husband, for about 20 years (672 - 692 AD) and earned the title of Supreme Warrior or Kalomt'e, meaning she outranked her husband. The site of her tomb was also the location of a temple.
"With the discovery, archaeologists now understand the likely reason why the temple was so revered: K'abel was buried there," Freidel added.
The discovery happens to be one of several unprecedented findings related to Mayan archaeology in Guatemala in the recent months. Another ancient grave, believed to be that of a young Mayan prince from the Late Classic period, was found beneath the ruins of a royal palace near the border of Mexico and Guatemala in July.