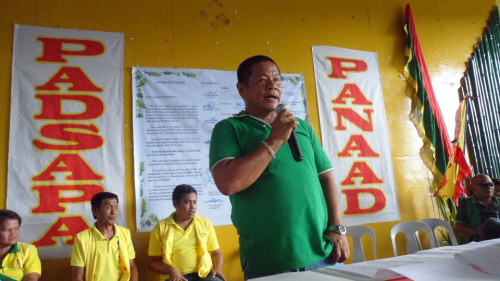 Gunmen have killed four people outside Ninoy Aquino International Airport in the Philippines, including the mayor of the town of Labangan.
Ukol Talumpa was killed together with his wife, an 18-month-old baby and a 25-year old man, who was later identified as the mayor's nephew. The baby was no relation to Talumpa or the other victims.
According to airport manager Jose Angel Honrado, Talumpa and his wife were waiting for a ride with his family outside an airport terminal, when at least two gunmen on a motorcycle shot him and others at close range.
The gunmen escaped on their vehicle. Four other people were wounded in the attack.
The airport manager said the four victims were declared dead on arrival at a nearby air base hospital.
"This is a very unfortunate incident that happened at Terminal 3," Honrado said.
"Government agencies are trying their best to determine the perpetrators and bring them to justice."
Manila's international airport handles both international and domestic flights, and it was packed with passengers and waiting crowds at the time of the shooting.
The local GMA television network's website uploaded a video showing men and women who screamed and cried while a man, apparently fatally wounded, lay face down on the pavement outside the passenger terminal.
Honrado appealed to other passengers who witnessed the shooting to help the police identify the suspects.
Talumpa won a hotly contested election for the Labangan mayoralty last May. According to local media reports, he had survived two previous attacks: an ambush in 2010 and a grenade attack in 2012.
"I understand that was the third attempt on the life of the mayor and this time the culprits succeeded," Justice Secretary Leila de Lima told reporters.
Manila's airport was also the site of the infamous assassination of the country's democracy icon Benigno Aquino in 1983.