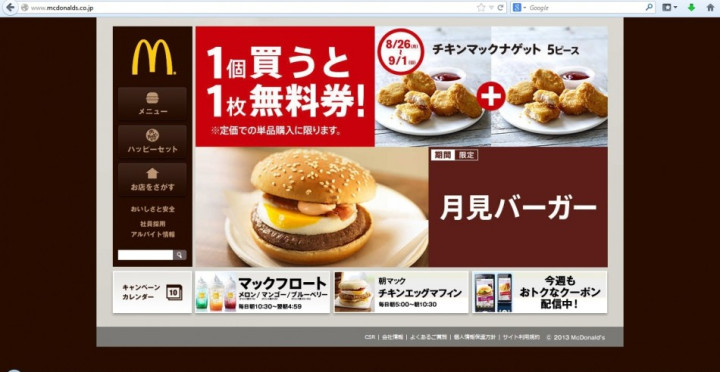 McDonald's Holdings Co (Japan) Ltd expects to record a loss for 2014 – its first in 11 years – after a food security scandal in the country hit its sales.
The company, which is 49.9% owned by US-based McDonald's Corp, forecast a net loss of 17bn yen ($156.7bn, €124.8bn, £97.7bn) and an operating loss of 9.4bn yuan for the year ending on 31 December.
"Customers have expressed a lack of confidence in our food quality, and I take responsibility for that," Reuters quoted McDonald's Japan CEO Sarah Casanova as saying in a press conference.
"It's our intention to try to turn this business around as fast as we can."
McDonald's Japan is one of the hardest-hit companies from the recent food security scandal in China.
The Chinese local media earlier reported that Shanghai Husi Food, owned by US-based OSI Group, sold chicken and beef past expiry dates to international food chains including McDonald's, KFC and Pizza Hut.
Subsequently, Shanghai's Food and Drug Administration raided Shanghai Husi Food facilities and seized more than 5,000 boxes of expired meat. The authorities also cancelled the company's license and detained a number of officials.
McDonald's Japan, which was sourcing from Shanghai Husi, had earlier withdrawn its annual earnings forecast after the food scare in July. Before that, the company expected an operating profit of 11.7bn yen and net profit of 6bn yen for the year.
In August, the company reported a 25% decline in sales – the sharpest fall since the company became public in 2001. In September, its sales declined further by 16.6%.
Even before the food security scare, sales at McDonald's Japan was suffering from falling sales due to stiff competition from convenience stores.
Following the outbreak of the scandal, a number of companies apologised to customers and said they were taking the products concerned off the shelves. McDonald's Japan halted all imports of chicken products from China in late July due to the scandal.