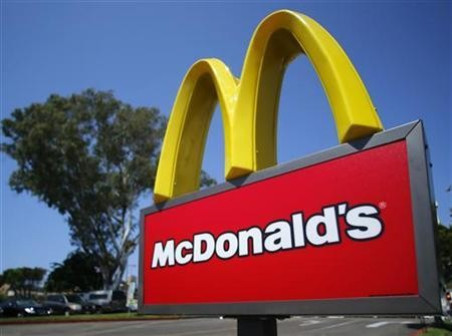 A couple have turned their backs on expensive wedding venues to hold their reception at McDonald's to make the event "as memorable as possible".
Fast food lovers Steven Asher and his fiancée Emily Marshall will celebrate their upcoming nuptials in a roped-off area at their local McDonald's in Bristol.
The pair and some of their 40 guests will ride in a stretch limo to the fast food joint for a wedding breakfast of Chicken McNuggets, Chicken Legend burgers and lemonade.
Marshall, a full-time mum said: "I don't care if people stare - I'm supposed to be centre of attention."
Asher said his future wife suggested the venue because they had shared several early dates there.
The 27-year-old, who works for a chilled food firm, said: "It's Emily's favorite - if we ever go out for lunch I always ask her where she wants to go and she always says McDonald's.
"Even when I say to her that it [the wedding reception] can be somewhere posh, she still picks McDonald's."
In 2006, Trisha Esteppe and Tyree Henderson exchanged vows at a McDonald's restaurant in Fairborn, Ohio, where they worked together.