Mobile devices could soon incorporate a 10-core processor as MediaTek has unveiled its first such mobile SoC (systems-on-a-chip) featuring Tri-Cluster architecture.
Two years ago the company was the first to announce its octa-core mobile processor, MT6592. Based on 28nm HPM (high-performance mobile) process technology, it uses eight Cortex-A7 cores, which are capable of clock speeds up to 2GHz. The octa-core processor became so popular among smartphones that chip maker Qualcomm eventually brought out its octa-core mobile processor.
Now, MediaTek has just introduced its Helio X20 mobile processor that will succeed Helio X10 featuring an octa-core processor.
The significance of Helio X20 is it is a mobile SoC with ten processing cores (deca-core) and Tri-Cluster CPU architecture. It is designed for use in flagship mobile devices.
The Tri-Cluster CPU consists of one cluster of two ARM Cortex-A72 cores running at 2.5Ghz for extreme performance and two clusters of four ARM Cortex-A53 core clocked at 2.0GHz for medium loads and one running at 1.4GHz for light activities.
The three processor clusters of Helio X20 are designed to handle different types of workload while delivering optimum performance and extended battery life.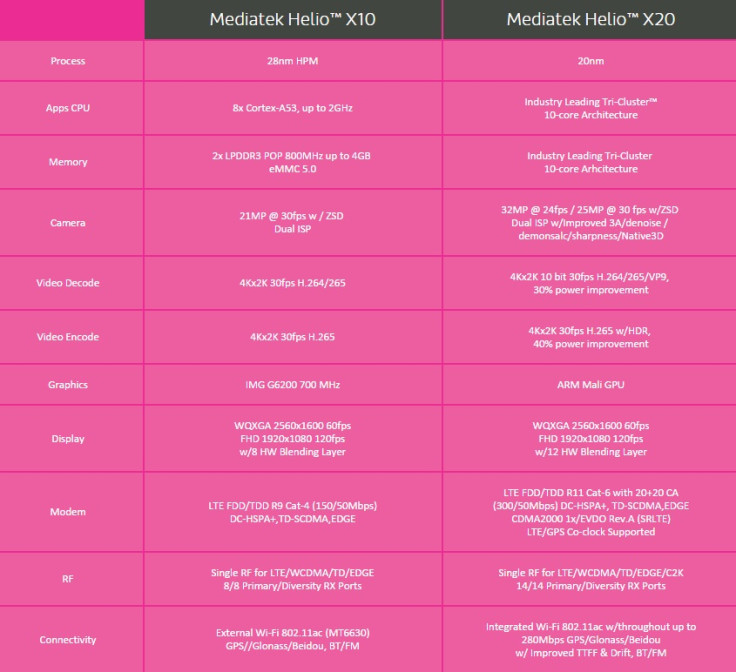 Following are the key features and performance of the upcoming mobile processor.
MediaTek Helio X20 delivers state-of-the-art camera, display, gaming, and audio features for today's most demanding apps.
The Helio X20 introduces dual main cameras and features a built-in 3D depth engine as well as multi-scale de-noise engines, for faster response time between shots and unprecedented detail, colour, and sharpness, even under extreme conditions.
Display is refreshed at an accelerated 120Hz per second for crisp and responsive scrolling of web content and maps, and uncompromised motion viewing supporting mobile games with high-resolution graphics.
A sensor hub on the embedded ARM Cortex-M4 processor operates on an isolated, low-power domain to support diverse always-on applications, such as MP3 playback and voice activation.
MediaTek has confirmed that Helio X20 will sample in the third quarter of this year and is expected to be available in consumer products by the end of this year.
[Source: MediaTek]