Meghan Markle was once a briefcase girl on Deal or No Deal: 'I tried to make ends meet'
Markle, 36, went on to become an actress, humanitarian, and Prince Harry's soon-to-be-wife.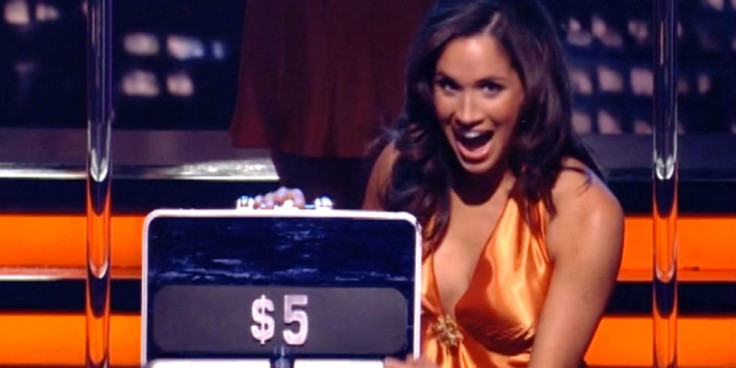 She's soon to become one of the senior members of the British Royal Family, but Meghan Markle once starred on popular TV show Deal or No Deal.
The 36-year-old actress from LA is under intense media scrutiny following her engagement announcement to Prince Harry on Monday (27 November), with every TV appearance, steamy scene, family story and skincare hack being relentlessly dug up.
Markle – who is set to marry Harry, 33, in May 2018 – made an appearance on television in the US version of Deal or No Deal, with some social media users referring to the somewhat unusual episode.
The actress can be seen wearing a very short orange satin minidress with a plunging neckline, while her hair is styled in voluminous curls. She wears a heavier makeup look than in recent times.
Markle was a briefcase model on Howie Mandel's game show from 2006 to 2007, and a clip of her on the programme has been circulating ever since her engagement to Harry was announced.
She spoke about appearing on the show in a 2013 interview with Esquire, following her big break as Rachel Zane on Suits from 2011.
Stating she did the job out of necessity, she said: "I would put that in the category of things I was doing while I was auditioning to try to make ends meet. I went from working in the US Embassy in Argentina to ending up on Deal.
"It's run the gamut. Definitely working on Deal or No Deal was a learning experience, and it helped me to understand what I would rather be doing."
"I would end up standing up there forever in these terribly uncomfortable and inexpensive five-inch heels just waiting for someone to pick my number so I could go and sit down," she said.
Social media users have been poking fun at Markle's Deal or No Deal stint, with one person tweeting: "If Meghan Markle can go from being a Deal or No Deal briefcase girl to an actual princess, I can find the willpower not to wear sweats all 7 days this week."
Another said: "meghan markle once held one of the briefcases on deal or no deal
this is the cinderella story of our time".