Two men, who were recently arrested in Australia for allegedly plotting bomb attacks in planes, had received instructions from a senior Isis member, the Australian Federal Police said on Friday (4 August).
Police further revealed that the two Isis supporters had planned two separate attacks - one was to bomb an Etihad airlines flight with an improvised explosive device, while the other plot involved using another device to disperse "a highly toxic hydrogen sulphide".
Both the accused, identified by the NSW Joint Counter Terrorism Team as Khaled Mahmoud Khayat, 49, and Mahmoud Khayat, 32, have been charged with two counts each of terror offences. They were produced before Parramatta Local Court on Friday morning and were denied bail.
Police described the failed plan as "one of the most sophisticated plots ever detected in Australia". Australian police have foiled several terror attack plots in the past year and has been on high alert after Isis released a couple of videos threatening to attack the country.
Elaborating on the two latest attack plots, AFP Deputy Commissioner Michael Phelan told reporters that the two accused smuggled military grade explosives into Australia to carry out the first planned attack. The plan involved detonating a bomb on an Etihad flight out of Sydney on 15 July, he said, noting that the plan was later aborted.
The elements for the improvised explosive device were sent by Isis operatives from Syria in a single package through international air cargo and were later assembled by the two men using an Isis commander's instructions, Phelan was quoted by news.com.au as saying.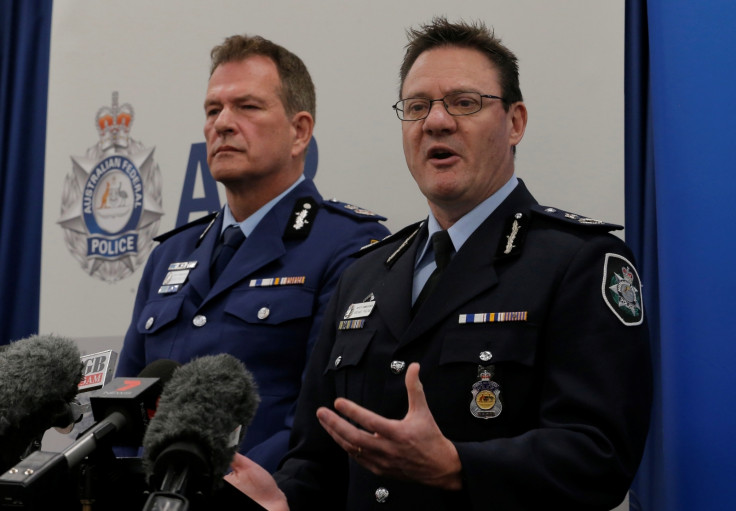 He added that the plot ringleader had allegedly sent his brother to check in the bomb on the flight and board it, but the bag with the "fully functioning" device was never checked in.
"There is a little bit of conjecture as to why it didn't go ahead on the 15th. We certainly would be alleging that it didn't get passed the pulling on the bags, it didn't get passed the check-in," he said.
For the second attack, Phelan said the militants had planned to use an improvised chemical device designed to release the toxic gas. The complicated device was "fairly well advanced, but not enough to be a fully initiated device", he told reporters.